So yeah…NaBloPoMo? FAILED. I tried and that's all that matters my track record is now 1-2. Maybe next year, if I'm still blogging.
If you follow me on Twitter you know that Lil Mama doesn't sleep. I took her to the doctor yesterday and basically he told me its my fault because I won't put her on a schedule.
Whose fault? I guess. We'll be cracking down this week. I was still letting her nap for an hour or for however long I needed her to be quiet so I can finish whatever I am working on. He said at this age a 30 minute power nap will get them through the day to bedtime. So if you don't see me commenting on your blogs then you know the 30 minute nap time has been put in effect.
I've come to the conclusion that my son has a condition called selective hearing.
Symptoms: Hearing what one wants to hear and saying huh when it involves an action a person is not interested in. How does the saying go? "If you can huh, you can hear" Yeah, that.
Treatment: Prompt removal of iPod until further notice
Why y'all didn't tell me next Thursday is Thanksgiving.
Yesterday I went into the school to pick up the cookie dough from my son's school fundraiser and caught a glimpse at the bulletin board that stated Thanksgiving break 11/19-11/23. I do a double take, mentally take note that the date was currently 11/12. Added 7 to 12 and came to the conclusion that he doesn't have school next week..THEN I was like OH.MY.GAH. That means Thanksgiving is next Thursday.
Please don't laugh at me. Between this house mess and trying to work on some things professionally I had no clue. I thought I had another week. I have no idea what we are eating, where we're going. None of that. None of it. I'll work it out.
Speaking of…whose battling Black Friday. I lie every year and say I'm not going and "be" right up in the mix. The adrenaline is all I need. So even though I'm not participating in Black Friday this year I am recruiting people to ride up to the midnight madness with me at the North Georgia Premium outlets…I'm probably not going to go though. <insert side eye>
We have a winner to the fabulous Nineteen Pieces Giveaway. Thank you all for entering the winner is….
a Rafflecopter giveaway

Congratulations Amanda!! I'll be emailing you.
I posted this photo of me on Instagram. I am so proud of myself for finally figuring out how to tie my scarf, as in my night night cap. The weather was misty and I had just gotten my hair pressed so I whipped this up. I got so many requests for tutorials that I am going to do a video tomorrow and I will be doing a giveaway for scarf I used. A friend of mine imports the silk and hand sews them. They are amazing for keeping your hair at night. I said AWL of that to say make sure you come by here tomorrow…M'kay!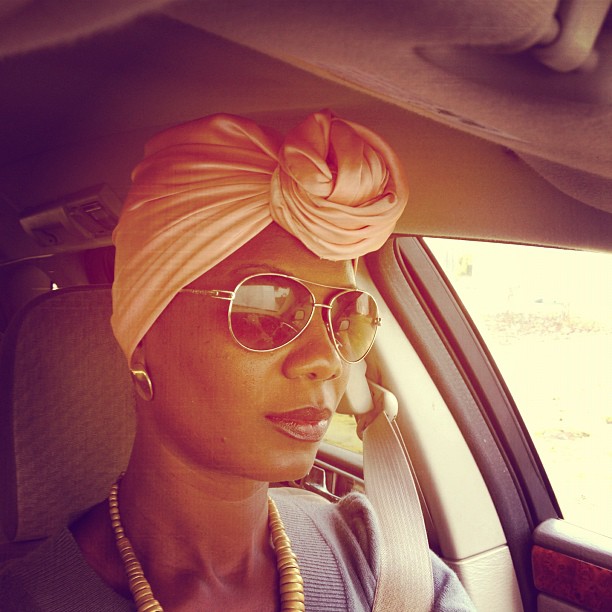 Can we come to your house for Thanksgiving? Are you riding with me to the outlets or not?!! Did Thanksgiving creep on the come up on you too?