Of all the things to cherish in the world, a good girl friend is one of them. The time spent gossiping catching up over drinks and laughs is absolutely necessary from time to time. Unfortunately, as life gets intense we often don't make the time to hang out with our BFF's like we should.
Tuesday's Giveaway: Two free movie tickets to an AMC Theater to hang out with one of your favorite people that you haven't hung out with in awhile. If you insist you can take your boo but the idea is to reconnect with someone you don't see often and just have a good time.
 ….aaaaaaaand dependent on what my funds look like when I stick these in the mail I just MIGHT throw in a gift card for you all to SHARE some…..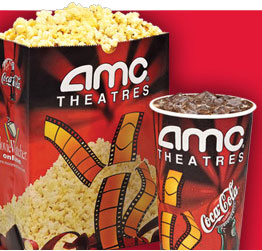 you know how expensive that stuff can get, bonding over a movie and popcorn…fun times, no?
Okay..now for the rules. I don't want to make this hard for you so there is only one stip to enter..leave a comment. I'm hoping to hear from some of my lurkers! 
MANDATORY: Leave a comment with the movie you think you will go see and with whom. Please indicate if you are team Sour Patch Kids or team Raisinets when it comes to movie snacks. If you do not have a blog please include your email address so I will know where to contact you.
Additional entries will be granted for: Following me on Twitter and/or Facebook. Just indicate which one or both in the comment section. (you can find the links on the left sidebar at the top)
Have a Terrific Tuesday!