Peas and carrots…carrots and peas!!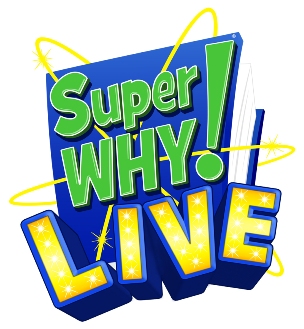 Super Why is one of the shows that is constantly played in our home. Addison loves this show and will ask for the "Super Vie" in a minute. Then once the intro comes on she breaks out into the cutest dance. Super Why is her show!!
I have always had a love for live shows and I am really glad that my children are now at the age to really enjoy them. We are going to see Super Why Live on Friday. I think I am more excited than they are.
If you are not familiar Super Why is a show on PBS kids and is geared toward preschoolers and encourages them to embrace reading and fosters a love of learning.
If you are in Atlanta, the show will be here on Friday. Tickets are still available. This is a great opportunity to get in some fun family time before school starts.
If the tour is headed your way please treat your babies to a great time. The last three stops on the tour are Atlanta, Tampa, and Miami Beach, with additional stops being added this fall. Please refer to the website at www.superwhylive.com  for additional dates and locations. If you are interested in seeing the reviews of others join in the conversation on Twitter using the hashtag #SuperWHYLive
Here's a behind the scenes look at the show with the creator of Super Why and the director of the live show.
If you would like additional information please view the Press Release below
Stay tuned for our review of the show!
Will you be making it out to the show as it continues its tour? Will I see you on Friday at the Atlanta show?!
Press Release:
Super WHY Takes Off in First-Ever Live Show
Super WHY Live: You've Got the Power!

Preschoolers' Favorite Reading-Powered Heroes Soar onto Stages Nationwide in All-New Live-Action Adventure Inspired by Top-Rated
PBS KIDS TV Series!

Must-See Multimedia Experience for the Whole Family Features New Music from
Jack Antonoff of the Chart-Topping Indie Band "fun."
 
New York, NY, April 30, 2012 – From Storybrook Village to a town near you!  Preschoolers have "the power" to experience Super WHY as never before when Super WHY Live: You've Got the Power!, the first-ever live show based on the top-rated PBS KIDS TV series from Out of the Blue Enterprises, flies onto stages across the country starting this summer!  Produced by S2BN Entertainment (Spider-Man: Turn Off The Dark, Yo Gabba Gabba Live!, Rock of Ages: The Musical) and featuring music from Jack Antonoff of the hit band "fun." Super WHY Live kicks off in Monroe, Louisiana, and will visit nine cities throughout July. Additional stops will be added to the tour during the fall season. For additional details please visit www.superwhylive.com  where you can purchase tickets and VIP "Meet & Greet" packages to really create an awesome experience won't be forgotten.
"Super WHY Live adds a whole new exhilarating dimension to Super WHY and its power to entertain and inspire young children," said Samantha Freeman Alpert, Co-Creator and Executive Producer of the series and Co-Founder of Out of the Blue Enterprises.  "We're so excited to extend the beloved series from the screen to the stage with this full-scale live production for families to enjoy together."
Super WHY Live vibrantly brings to life Super Why, Alpha Pig, Wonder Red, Princess Presto and their puppy pal Woofster, who each take children on larger-than-life, imagination-stimulating adventures.  With help from the audience, the characters embark on magical, out-of-this-world journeys to explore what they've always wanted to be – from a ship's captain to a rock star and more!  While singing, dancing and interacting with the characters on stage along the way, pint-sized fans (and parents, alike!) discover who really has the power to make dreams come true!
Showcasing cutting-edge technology, visual effects and aerial stunts, Super WHY Live is a sensory spectacular that will dazzle and delight audiences of all ages.  The new production features a team of top talent, including a Tony Award-winning scenic designer and an Emmy and Tony Award-nominated lighting designer, who create a mesmerizing setting for the show.
"We're thrilled to have the opportunity to take fans on this high-flying ride and invite them into the world of Super WHY in a completely unique way," said Michael Cohl, CEO, S2BN Entertainment.  "For many children, Super WHY Live will be one of their earliest live entertainment experiences and we've created a truly unforgettable show for the entire family."
Following are the remaining stops on the first leg of the 2012 Super WHY Live: You've Got the Power! tour.  Additional cities, tour dates and venues will be announced soon.
| | | |
| --- | --- | --- |
| Date | City | Venue |
| Friday, July 27 | Atlanta, GA | Cobb Energy Performing Arts Centre |
| Saturday, July 28 | Tampa, FL | Straz Center for the Performing Arts |
| Sunday, July 29 | Miami Beach, FL | The Fillmore |
For more information please visit www.superwhylive.com to sign up to receive the latest tour news and announcements and follow @superwhylive on Twitter.