I used to reserve sweet potatoes for Thanksgiving only. Yams please. Then I discovered all of the wonderful and tasty things you can do with them other than piling them with butter and sugar. One of my favorite go to side dishes is herb roasted sweet potatoes. The crunchiness and saltiness of the outer skin with the sweetness of the inside is just dam* good.
Cut up sweet potatoes + olive oil + herbs + a good toss + hot oven = good eating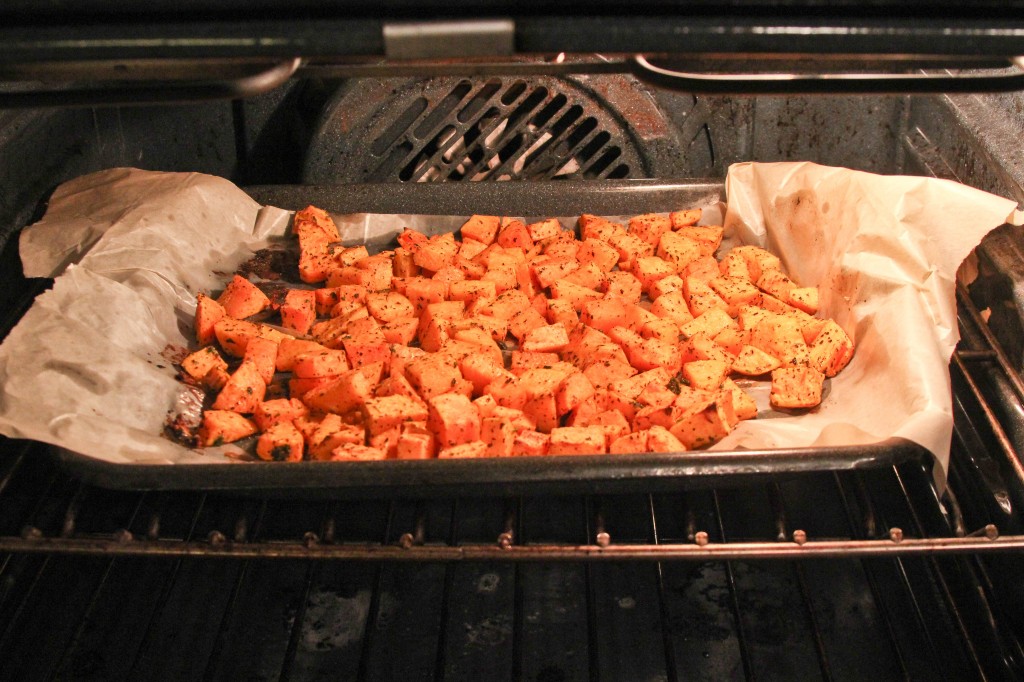 Herb Roasted Sweet Potatoes
Prep time:
Cook time:
Total time:
Ingredients
4 sweet potatoes, peeled and cut into small cubes
2 teaspoons kosher salt
1 teaspoon dried basil leaves
1 teaspoon dried parsley flakes
1/2 teaspoon garlic powder
1/4 teaspoon black pepper
2 Tablespoons extra virgin olive oil
Instructions
Preheat oven to 450. Line a cookie sheet with parchment paper and set aside.
Combine all ingredients in a bowl. Toss to coat everything evenly. Spread in a single layer on prepared cookie sheet. Place in oven.
Bake at 450 for 30 minutes, turning every 10 minutes.
This is the first Friday of the month so the Fab Five and I are sharing our favorite sweet potato recipes. Be sure to stop by and see what the other ladies have cooking.
MJ | Sweet Potato Grits: Love grits? Love sweet potato? Combine them for this delicious taste of fall and Southern eats. Enjoy with country ham, green onions and a splash of hot sauce.
LaShawn | Baked Sweet Potatoes with Feta and Sundried Tomatoes: For those of us looking for alternatives to the traditional sweet potato this holiday season. This is not your mama's sweet potato.
Bernetta | Garlic Parmesan Sweet Potato Fries: Who said you couldn't have fries because you are eating healthy now? This version allows you to eat good, get a french fry fix and enjoy all the health benefits that a Sweet Potato brings. You can make these fries sweet or spicy and it will still taste great.
Kita| Sweet Potato Souffle for one: a sweet potato casserole for one.  It is for those who want to hide in their closets and indulge in their very own sweet potato casserole without making any for the rest of the family. It's the holidays so you can be a little bah humbug and treat yourself.