I am a RoC Ambassador and received this product for review. All opinions are mine.
Over the years I have really become more conscious about my skincare. I've mentioned before that I am really not brand loyal and will try anything but I've come across a staple with the RoC  Multi Correxion 5 in 1 Restoring Night Cream. As a RoC ambassador I have been sent samples of a few of their product offerings, and I have liked the majority of them but this night cream is
E V E R Y T H I N G.
From the smell to the texture to the results, this night cream is one that must find a home in your beauty product arsenal…or one you should at least try especially for the price.
I only bring and review products here after I've tried them for at least 2-3 weeks. Well after week 1 I knew I was sold but said I would stick to the script and it still has not disappointed, if anything it has made me more of a fan as the weeks progress.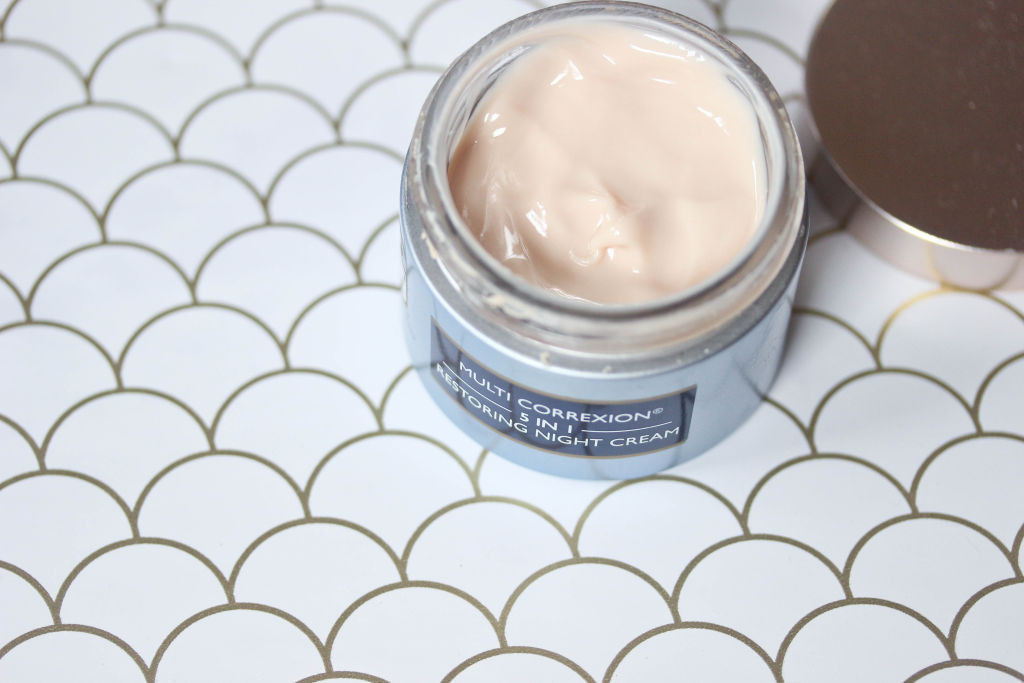 What's so great about it? Glad you asked.
Texture: It's feather light but thick at the same time. I am aware that is an oxymoron but just imagine something that is silky to the touch but has the feel of a heavier moisturizer. It goes on so smooth and sinks in almost immediately
Smell: If you are not a fan of scented products I think this would still be okay with you. I love the smell, its light but leaves a relaxing scent.
Packaging: I'm a packaging lover. The bottle is heavy, I believe it is glass but it is durable. Mine has taken a few tumbles with no nicks. I love it because it seems so luxurious and high end on my vanity but  affordable. Well priced items with luxury touches are always a win in my book. This jar retails for $28.99 and you can find it at your local big box retailer or drug store.
Noticeable Results within 4 weeks: Within a few days I noticed a change in the look of my skin the morning after putting the cream on.  Your skin will look hydrated, and dewy as I like to call it. Around 3 weeks I started to notice that some of the discoloration in my skin was starting to blend in and not be so noticeable, and my skin was firmer and just over all healthier looking.
I am in love with RoC Multi Correxion 5 in 1 Night Cream. In love. It is understandable that every skincare product won't have the same results on everyone, however if you have combination skin like I do, for the price I would say give it a whirl.
Have you tried any RoC products? What are some of your favorite skin care must have products?