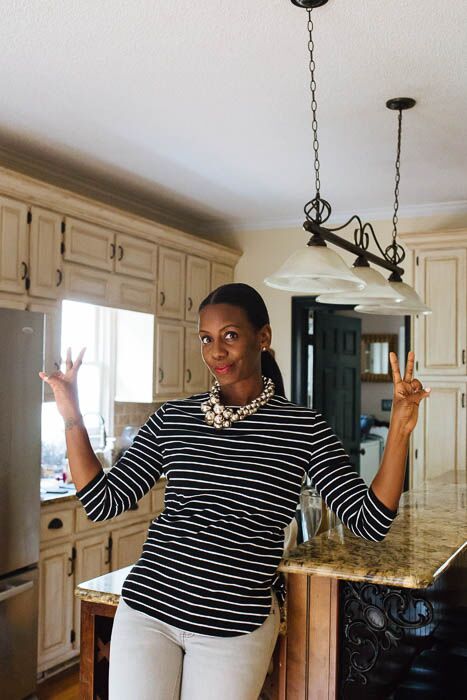 In 2010 I had the genius idea to start a blog. I named it Lipgloss and Binky and it chronicled my adventures as a newly minted SAHM of two that was  desperately clinging  to any remnants of my life prior to getting married and having children. For many years I believed the stereotypes that told me that there was no way I could be that homemaker and still be fab, as if these things are mutually exclusive.  I finally surrendered and decided that *gasp* it is possible to keep a neat and tidy home, craft, cook, bake and stay fly in these streets…with a little effort, and order of course. There is a way to balance I've since found out as a recovering messy, disorganized, overwhelmed being. If I can do it anyone can!
Unlikely Martha is about encouraging women to embrace taking care of home first without losing themselves in the process. It is here that you will find recipes, crafts, home décor makeovers and DIY projects just to name a few.  We moved into our forever home a few years ago and just now our coins are getting their life so I can begin decorating, and I'll be sharing the change as we turn this house into a home. These are all of the things you will find here on Unlikely Martha as I totally overshare the happenings in my life as I put a new face on modern homemaking.
I do have an off and on relationship with my Canon but I love taking photos and photography is one of my biggest passions. All photos shown here are mine unless otherwise stated. I shoot with a Canon T3i and most often my 60mm lens..oh and with my iPhone 6.
I do serve sweet tea, wine and cocktails on my virtual porch, so be specific when asking. The music in the background shall be of the "trap" variety unless there are kids around then Kidz Bop it is.
Be sure to follow my everyday happenings on Instagram, my ramblings on Twitter, and my shares on Facebook.
Glad to have you!
Want to chat? Email me at mimi@lipglossandbinky.com