Sooooo…..the other day I drops Lil Mama off in the crib to keep her out of the way while I did some cleaning. She ain't ( yes, ain't) even in the crib 5 mins. I walk in just in time to see THIS….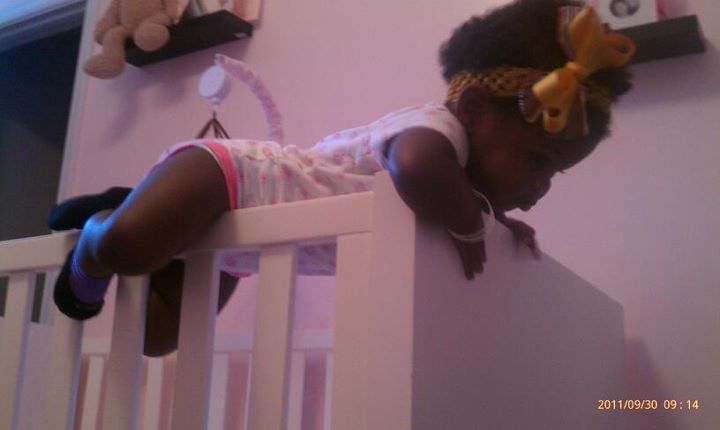 Why? Obviously she din't get the memo that people don't plank anymore, and she couldn't have been using that sweet noggin of hers to think that was a bit of a tumble if mama didn't get there in time to catch her. Should've seen me trying to make sure she didn't fall while reaching for my phone.
So the Mr. and I decided it was time to convert the crib to a toddler bed. First night…OMG. No matter how sleepy, I have bionic ears. At some ungodly hour I hear little feet, followed by…hi mommy. As I struggle to gain focus on the time on the cable box, she comes to the side of the bed clutching her doll, hollering cuP. Huh? By now I've focused on 2:45a. I scoop her up, put her in the middle of the bed. Next thing I know she's peeling her dad's eyelids back. Lawd, baby you can't interrupt the breadwinner's sleep. Off we go back in her room. She falls asleep. Then an hour later I hear my son through the monitor. Noooooo, moMeeeeeeee *focuses eyes…again. 3:47a. Walk to my son's room and she is peeling his eyelids back. Scoop her up. Put her back back in her bed. I lie on the floor *dozes off* I feel little feet stepping on my back…she's off again, wanders into the kitchen hollering eaT.  You guessed it *focuses eyes…again* 5:13a. I just got up and fixed her breakfast. She dozes off at 6 then has a diva fit when I wake her up at 7 to take Lil Man to school.
My son. NEVER did such a thing. Hopefully the new car smell of her ability to climb in and out of bed at will, will wear off soon.
Had this problem? Did you lock them in the room? I don't want to do that, but not sure I want her lolly gagging around in the dark either. Taking advice…first up?