As much as I share over here, when I have moments of non sharing I feel like I've completely fallen off the wagon and you guys are all like where is Mimi and what is she doing…although I know you aren't..
I've been kind of quiet, just processing some things and contemplating on some next steps career, blog and entrepreneurial wise. I just had to let it go the other day and remember that all things work out how and when they are supposed to. I'll just keep repeating that to myself.
Really nothing newsworthy has been going on around here. I finally feel settled into the house and there are boxes still laying around. Oh well. I suppose we should just move them into the basement with all of the others and hope one day they will get unpacked…or not. As long as they are gone by Thanksgiving. We are hosting this year. Oh, and those curtains? Not mine.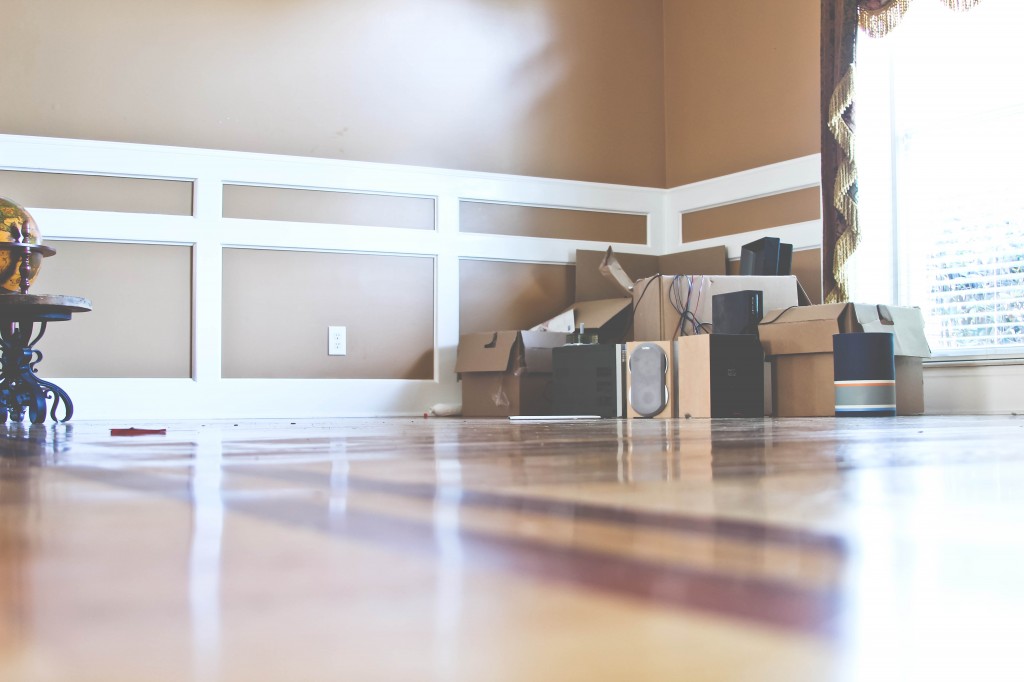 I've been trying to add in a few decorative touches to the kitchen. I have been reading so many décor blogs and they have helped none. Instead they have fueled my crazy indecisive mind to be on the hunt for the absolute perfect thing for every space. Let me tell you how hard it is to find the RIGHT thing when you have NO money. Hmph.
Well, I know me and I must start with baby steps. I was obsessing about the perfect canisters, but again with a miniature budget I needed something that I would like and that would be different. Ventured into Walmart and fell in love with these huge Ball Mason jars. No canning here. I plan to put my flour, sugar and coffee in them. I got two from Walmart and one from Target. Go figure the one at Target was $3 more and I spent 10 minutes contemplating on whether I needed to head out to Walmart or just pay the $3. My mind is crazy!!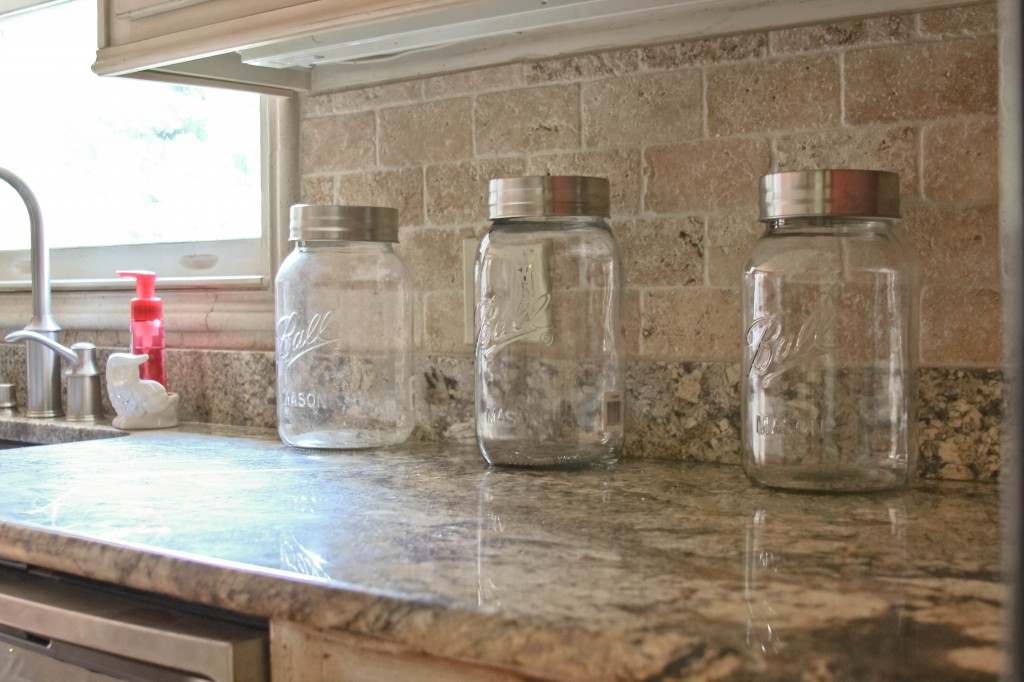 So recently I've fallen in love with owls. I'm not sure why, but when I saw this adorable soap dish at Bath and Body Works I just had to have it. With my handy coupon I was able to get the hand soap for free and it smells ah.mazing.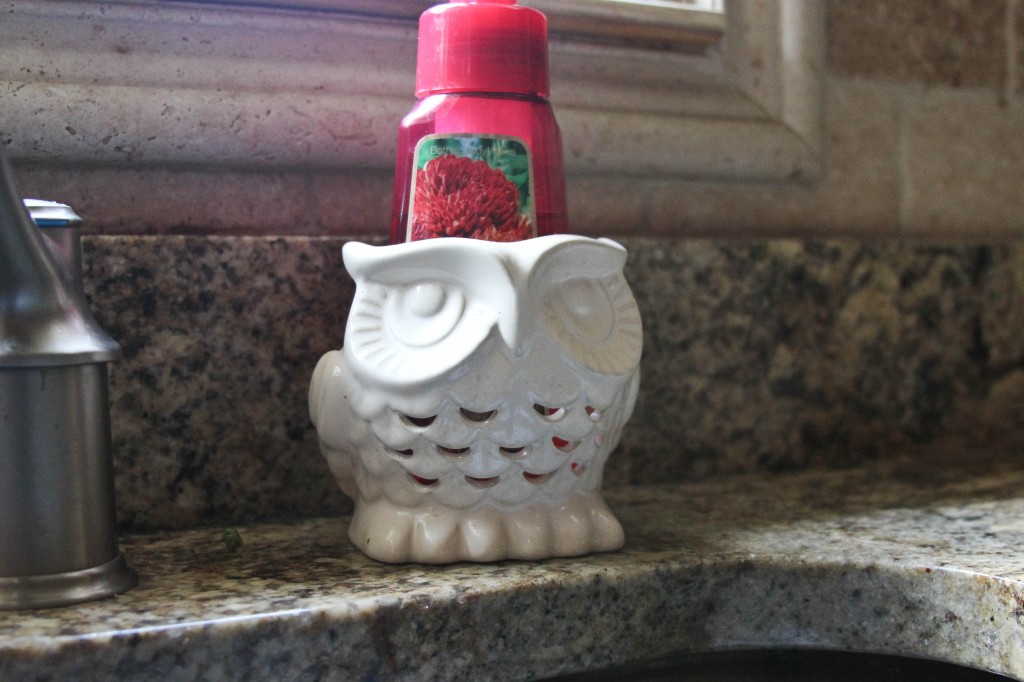 The laundry room is still a work in progress. The doors have been painted with 2 coats already of a paint/primer mixed in one and I still need a few more coats. At the recommendation of a friend I think I am going to try the oil based paint to see if that covers better. Here's a progress shot. No worries, I still have a month left on my timeline *holds back giggles*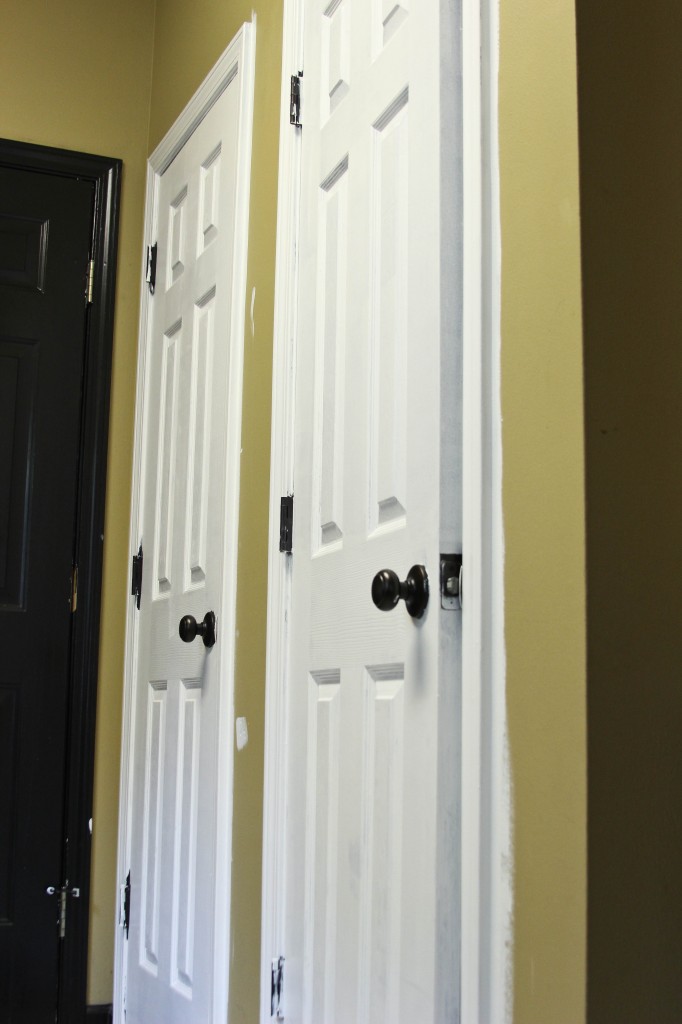 Last, but not least. Speaking of mum, I love fall and with fall comes Mums. When I was at Walmart I had the idea to get a small Mum to place on my sink in the kitchen. I have been known to have a brown thumb, literally and figuratively so I am anxious to see my plant grow. So much so that it is the first thing I look at in the morning to see if there has been any progress. None so far. I suppose just like a watched pot doesn't boil, a watched Mum won't grow. Ugh. I'll keep y'all posted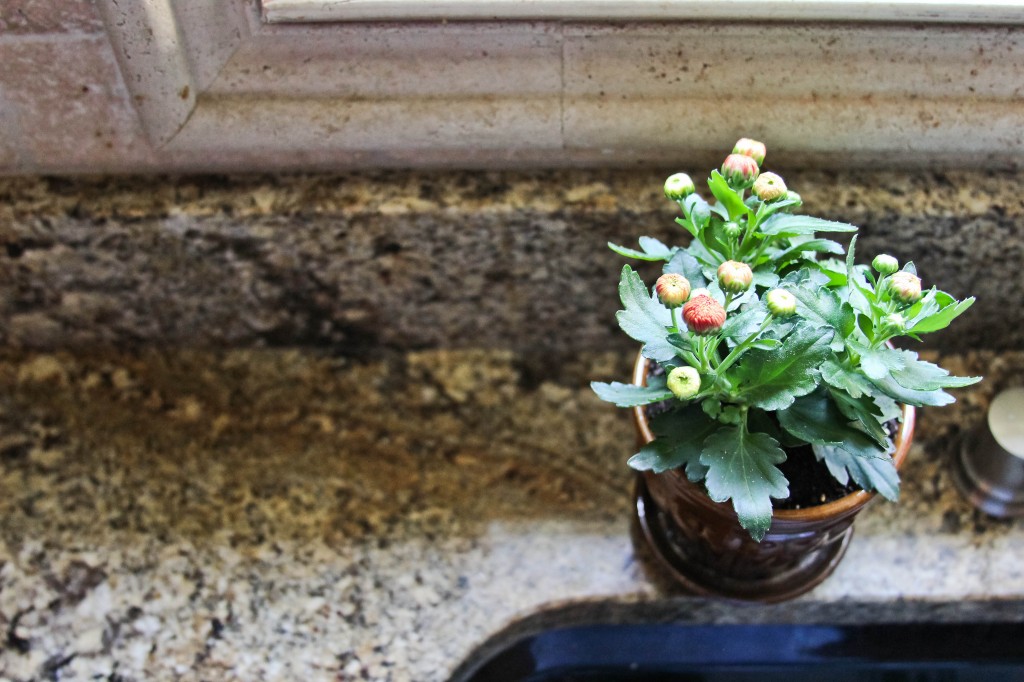 Here's a few all together shots. I have a ways to go but I have to start somewhere.
It still seems a little sparse. Maybe with contents in the jars it will be different. How many bags of flour, sugar and coffee am I going to need to fill these babies up…Don't answer that.
How are you?!