This is a Sponsored post written by me on behalf of No nonsense for SocialSpark. All opinions are 100% mine.
Shortly we will make the transition from Winter into Spring and personally I can't wait.
Spring introduces a  rebirth of color and with the cool/mild temperatures what better time than to throw on some colorful leggings or tights to slowly transition your winter pieces into spring as well as start to slowly incorporate spring pieces into your wardrobe mix.
I have a hard time defining my style because I like a little of everything but I love a mix of funky and conservative…if that makes sense. I have shown just two ways that I would totally rock a pair of colored tights. I am not afraid to take SOME risks when it comes to fashion. However,  I know some people won't even consider risky behavior when it comes to dressing themselves. Let me give you a few tips that may or may not work for you.
Find a piece of printed clothing. It could be a skirt, dress or blouse and from that pattern choose a pair of tights/leggings that pull out one of those colors.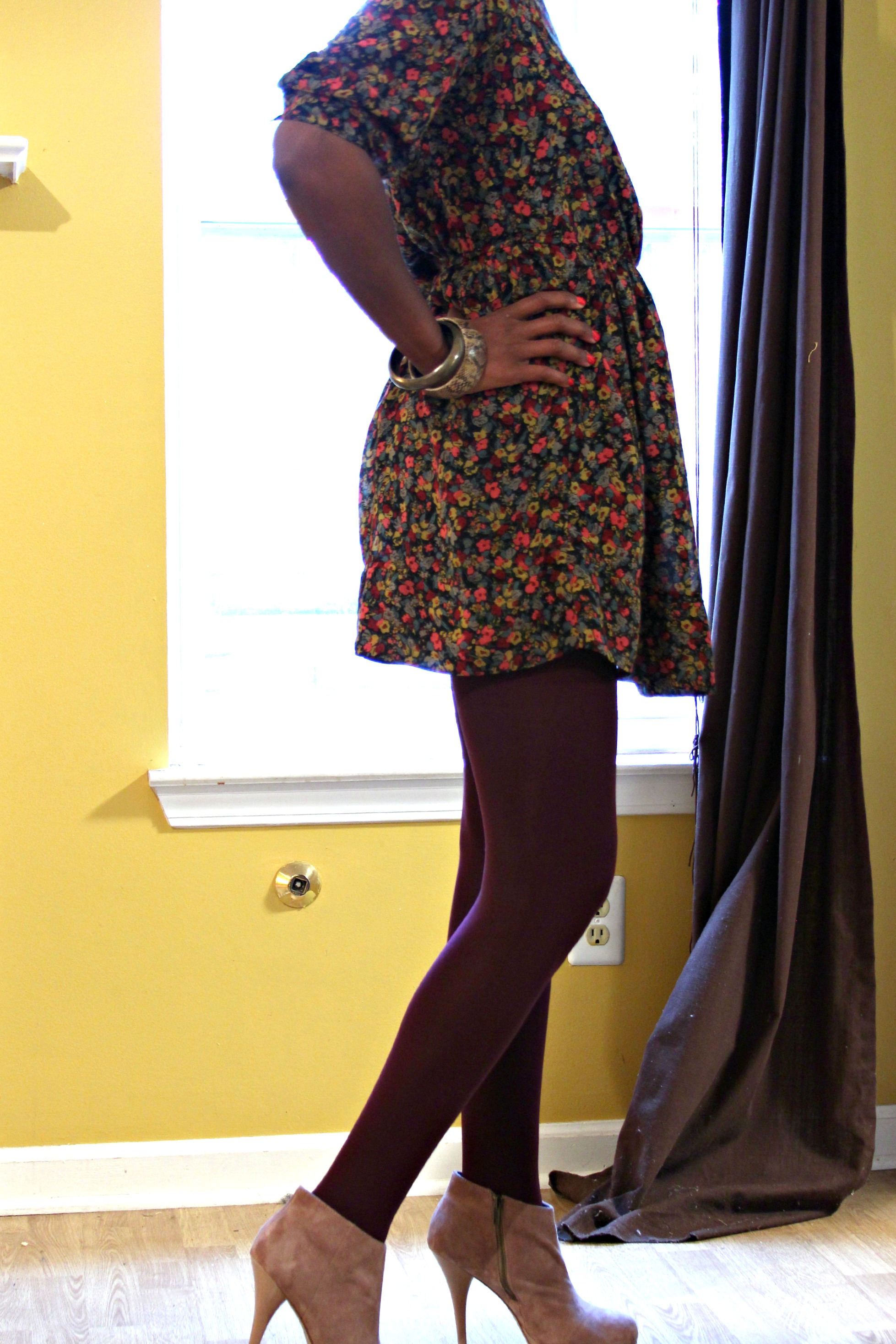 Dress: Thrifted Tights: No nonsense Shoes: Steve Madden
For a really bold look don't be afraid to put on a contrasting shoe and/or blazer/sweater that are close in color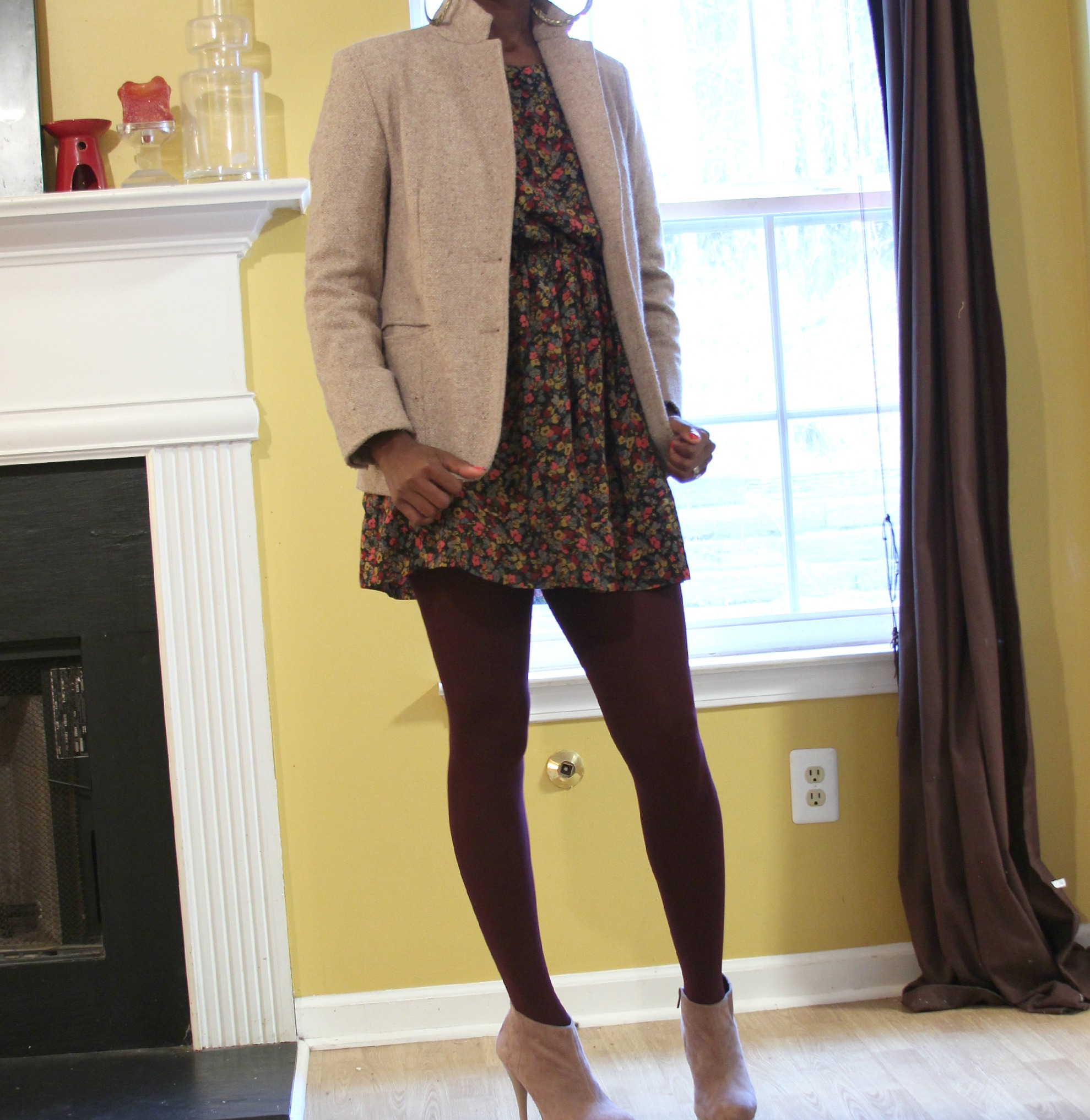 If you are a little more conservative, try pairing your colored tights with a pair of shoes and a matching blazer or cardigan for more of a monochromatic look. This combination minimizes contrast and places the focus on your printed clothing article.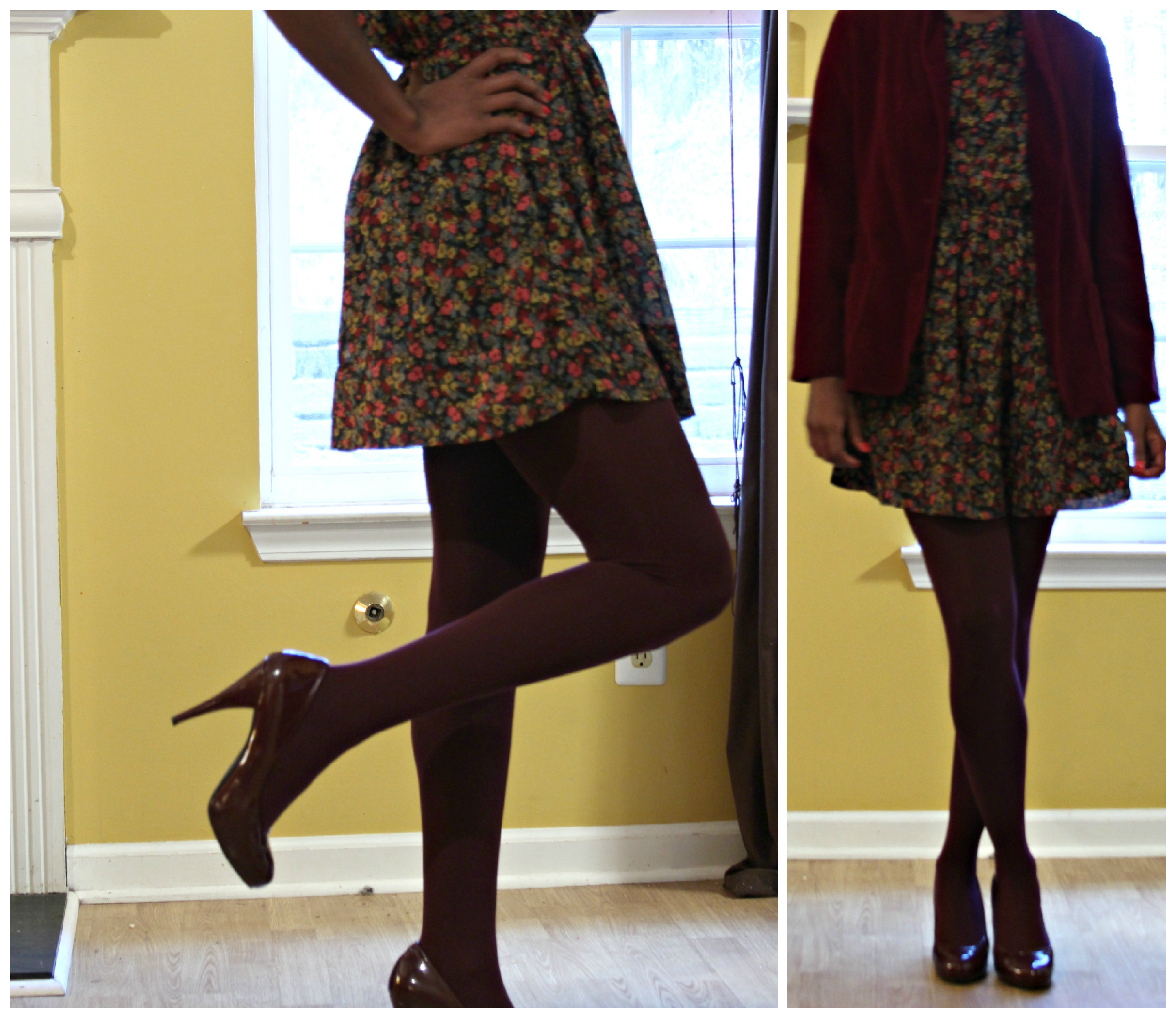 So if you know me, you know I rarely break the bank for my clothing and accessories. I received two pair of tights and a pair of legging from No nonsense, and I will say for the price they are extremely sturdy and well made. Sometimes when you purchase tights that are of a lower price point they don't tend to hug the leg as well and by the end of the day you have some ugly slouching and stretch. Not with these. I wore them all day under a pair of jeans and they fit just as well at the end of the day as they did at the beginning.
Many of us are busy career women and mothers so if picking up a fashion item takes us out of our way we will likely pass it up. Fortunately No nonsense tights/leggings are easily found in your local drug store and mass retailers AND they are way affordable.
Can you say the two As: Affordable and accessible.
Jill Martin who is the co-author of New York Times Bestselling book, "I Have Nothing to Wear" and the New York correspondent for Access Hollywood will be teaming up with No nonsene in the near future as a Brand Ambassador. No nonsense Marketing Director Andrea Angelo had this to say about Jill, " She is stylish , modern and knows how to make the most out of every outfit in her closet without spending a fortune."
Hmmmm……sounds like the majority of us. Please make sure to check out No nonsense on the Web > No nonsense tights and leggings, and  on Facebook > No nonsense on Facebook
Have you tried the colored tights/legging trend?  Do you think you will give it a whirl?