Listen. I'm tired.
By nature I am a bit of an insomniac and in a nice quiet room I can function off of 3-4 peaceful hours of sleep. Please note I said peaceful.
Initially we embraced co-sleeping until it became violent as depicted here. The violence wasn't getting any better so I started placing her in her own bed at night. Yet, like clockwork somewhere between the hours of 12a-1:30a she will sleep "drunk" walk  her way into our room. Sometimes she even detours to the kitchen, grabs a bottle of cold juice and will hurl it on the bed while yelling " I shirsty"
Can you imagine a cold bottle of Simply Lemonade touching your leg in the middle of a good sleep. You don't want to. Trust me.
So we know she had issues with staying in the bed early on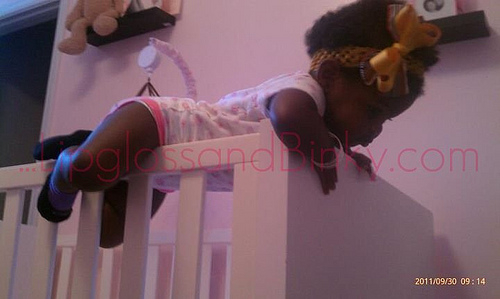 but when is this madness going to stop. I am likely to walk her back and forth at least 3 times a night. I'm over it, and sometimes I just let her stay and then I get NO sleep.
I came across the "baby sleep positions" on The Chic Stay at Home Mom, I then went to look it up and found a variety of the sleep positions that keep me away from my peaceful sleep. I just want it to end.
Sometimes you have to laugh to keep from crying!
Does your child sleep in their own bed? How did you make that happen? Sharing is caring.