We semi co-sleep. As in, she starts off in her bed and migrates to ours sometime in the wee hours of the morning. Remember this….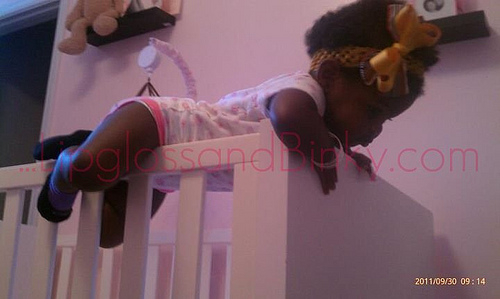 Yeah, so since she has free reign to remove herself from her now toddler bed I welcome her sweet face into our bed when she feels the urge, which is every night.
She is my last baby and I adore feeling her little body nestled under mine as I enjoy my tiny sliver of bed real estate which is usually on the very edge. Her feet in my back or my hair tangled in her hand. I really do. I enjoy these moments because I will never experience them again.
I write this at 4:30 a because she punched me in my face in my sleep and now I'm up. PUNCHED! Yes, my face is hurting. I wanted to cry. I didn't know what hit me, and to think she never woke up. The sleep place violence is becoming increasingly and increasingly more prevalent and I know I can't make her stay in her bed so I need some suggestions. My son slept with my mother when she was alive and when she died we didn't have an issue with him he was old enough to stay in his own bed.
How did you rectify the bed bullying?
Signed Tired, Weary, and Abused