As mothers and/or women on the go sometimes it is so easy to neglect our skincare. Our skin is the first representation of us that people see, so it is important that we make a good impression with our skin. Finding the right way to have amazing skin is often the biggest obstacle that we have to face, but by having a look at something like botox treatment, you could find yourself on the way to having clear, youthful skin for the longest time. Outside of drinking water and maintaining a healthy and balanced diet there are other easy steps we can take to make sure we look and feel our best. Today Mylah Stanton from her namesake blog, Mylah Stanton is guest posting and giving us the skinny on 4 easy skin care tips for us busy women on the go.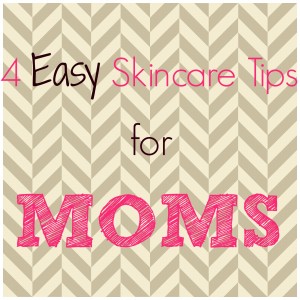 I know I'm off to a really great start when I make it out of the house with socks that match, both eyebrows filled-in, and an outfit that doesn't carry the remnants of the blueberry muffin my two-year-old son just ate. Like you, I'm busy. I'm a wife, mom, full-time employee, and part-time licensed esthetician.
One thing I absolutely cannot allow my busy life to get in the way of is the health of my skin. I may not wear makeup everyday, but my skin is clean, refreshed, and protected. Skincare doesn't have to require a laborious regimen.
Here are four easy ways to maintain your fresh look and healthy skin even when time is limited.
1. Multi-task for healthy skin. For most people, washing their faces in the shower saves them time. But what are they reaching for to do it? Bar soap. It's easily accessible. However, bar soap destroys your face's acid mantle (your skin's protective barrier) and will dry out your skin forcing it to work harder than ever to moisturize and balance itself. To save yourself time and make the right skincare decision, keep a bottle of your favorite cleanser (in a pump form – keeps bacteria at bay) in the shower. That way, it's within reach and you don't pick up that wretched deodorizing soap you love so much.
2. Keep your morning routine to a maximum of three steps. For most people, any routine that requires more than three steps becomes cumbersome. My suggestion is to follow the "cleanse, tone, moisturize/protect" routine. I've combined the "moisturize and protect" steps because you can mix your moisturizer with your SPF in your hand before application to save time or buy one that does double duty. Save masques, additional exfoliation, and serums for your nighttime routine.
3. Bat your eyes and pout your lips. I believe eyebrow pencil, mascara, and lip gloss are a woman's best friends. If you need to forego a full-face of makeup, apply eyebrow pencil to fill in your "frames" if needed, mascara to show off those lashes, and pop some lip gloss on your pouters. You'll be surprised at how refreshing you'll look and feel. You can even find vegan brow product reviews on sites like https://www.thrivo.co.uk/best-vegan-eyebrow-pencils-cruelty-free/ if you're not sure which product is best for you.
4. Treat yourself to a facial. At lease once per month, treat yourself to a rejuvenating facial from a licensed esthetician. Not only will this relax you and give you a much needed break, but it will refresh, hydrate, and give your skin the deep cleanse it deserves.
What is your current skin care or make up routine?
Bio: Mylah Stanton is a thirty-something wife, mom, and child of God. She is the owner of Noyce B. Skin Therapy Boutique located in Los Angeles, CA. In her spare time, she enjoys playing with her son, attending skin care advanced education opportunities, trying new restaurants, and blogging. Wherever she goes, her life verse goes with her: Micah 7:7.
Don't forget to enter the drawing to win $50 to Ink361 so you can print out your Instagram memories. Giveaway ends tomorrow!!