This weekend. Ahhhhhh this weekend. This weekend for obvious reasons, read George Zimmerman acquittal has been a roller coaster of emotions and deep thought regarding the state of race issues in American, the state of the United States Judicial system and the fact that my heart absolutely mourns for the Trayvon Martin's family. I don't have much to say in this space regarding this except for I am prayerful for his family and the state of this nation.
This weekend we continued our process of laying low. Friday night as a family we all found our way to the movies to see Grown Ups 2. The movie was hilarious from the beginning to the end, not that I didn't expect it to be. We had  dinner and then headed over to see the movie.
Saturday, was the home inspection for the new house. I am still very much walking the fence when it comes to being excited. We are currently in underwriting, we have all of the monies necessary and are now just waiting on final approval to close from the lender. We are set to close on July 25th. The home inspection went off without a hitch. I imagined it would seeing that the house was just sold a little over 2 years ago to the family we are purchasing it from and they purchased it from the original owner. The roof, the hot water heater, the AC unit and the furnace were all replaced between 2006 and 2008. In my book those are are the biggies. There were a few electrical issues and other minor things that need to be done but they didn't add up to $1000 total so we didn't ask for any concessions. For some reason the appraisal hasn't been completed but if it is done this week we shouldn't have any delays closing as long as they agree to the appraised value. We are expecting the value to come in about $20K less than what we offered. We'll see.
Sunday, we took a family outing to see Turbo. Great movie, with an awesome message for children and adults actually. After leaving the theater we headed downtown to have dinner with Christina from Being Mrs. Jones and a few other bloggy buddies to include Lashawn, Kita, and K-Rock to show her a warm welcome to Atlanta. The kids had a ball and we chatted like old friends. Happy to add Christina to the list of bloggers that I've had the pleasure of meeting in real life.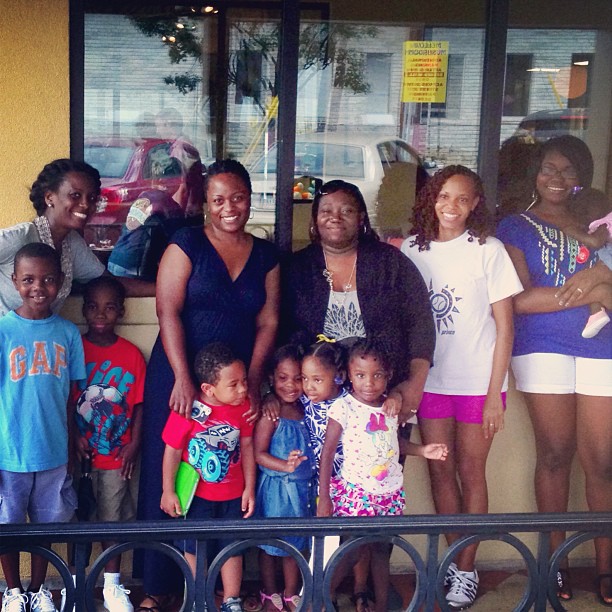 I failed at getting outfit posts this week but I did capture my outfit from Friday night. I wore: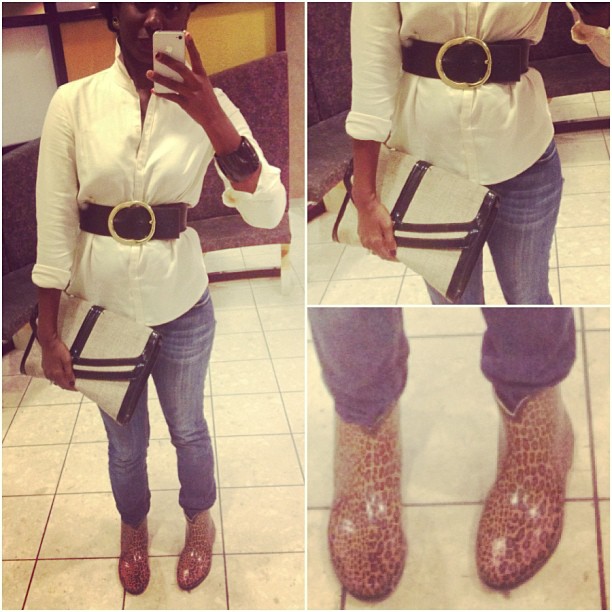 Blouse: Thrifted Belt: Thrifted Jeans: Thrifted Purse: Thrifted Rain Boots: Target Bracelet: Macy's
Linking up with:
Monday Mingle/Momtrends