To be quite honest with you I have major issues with overweight children. While keeping in mind there are many uncontrollable circumstances that would allow a child to be overweight, there are some that are a result of parental choices. The latter is the one I take issue with.
I know as parents we are busy and I have been just as guilty of grabbing something unhealthy while on the go to feed whining, hungry children but I really try to keep those moments to a minimum and instead prepare healthy snacks that can hold them over until I can get them a good meal.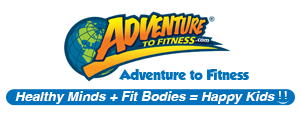 As parents we can find it hard to make time for exercise and healthy activity, and as a result sometimes our children suffer and also adopt a sedentary lifestyle. I know that when I was pregnant I was worried that I wouldn't have a chance to keep fit because I would be all tied up with children. Luckily, my friend became a Cultural Care Au Pair so she could travel a bit more and her host family were really fit and active so she gave me lots of ideas on how I can find time to keep active! If you need help with that then today we are going to look at Adventure to Fitness and the strides they are taking to get children moving in a fun and engaging way through interactive episodes that merge physical activity with learning based lessons in math, science, social studies, and language arts.
While watching an Adventure to Fitness video, children are asked to constantly keep moving in an effort to keep up with the adventure they are watching. Upon completion of a video, the child would have been active for 30 minutes and learned lessons based on the video. Here is a sneak peek at Colonial Chaos. This particular video teaches about Colonial America and some of the happenings during that time.
In addition the site also provides educational resources for parents to help parents make healthy choices for their children. Adventure to fitness is the first program of its kind to get kids moving, learning and having fun!
Adventure to Fitness offers a variety of options that allow parents/teachers to stream videos monthly through their Basic, Value and Premium plans. Plans start as low as $9.99/month with access to five videos. To learn more about the subscription plans visit the Adventure to Fitness store where you can learn about streaming, purchasing DVDs as well as merchandise.
Adventure to Fitness is a viable option to start kids on an exercise regimen. My children loved the videos and the baby has even requested to play the "jumping" game. I had planned to grab a video of her playing but with the move and all I just didn't get time. Whether our children exercise voluntarily or if the thought of exercise calls for pulling a Mommy mind game it is so important to get our children to realize the importance of maintaining a healthy and active lifestyle very early on in life.
If you would like more information on Adventure to Fitness please visit them at their virtual homes on Twitter, Facebook, Pinterest, Youtube, and online to stay in the loop on this innovative product sure to get your children moving and having fun