It's Saturday evening and after being out all day and not planning ahead for this whole blogging every day in November thing I have going on, today's blog post is just a few of the random thoughts that have been running through my head the past few days.
| This dance mom life is the most.  I'm just getting started and I'm already tired. Every weekend from now until the middle of December there is a dance performance and/or practice sucking the life out of my Saturdays and Sundays. We breathe for two weeks and right when the new year starts we jump into competition season. Anything for the kids they said.
| I'm contemplating some really tough decisions on whether to cut out a few things I love in the new year. I'm in that time of year when I overthink everything and everyone's intentions. One discerning factor that remains constant is I need  GOOD VIBES around me. If they aren't there some things will need to go for sure, but that still doesn't make the decisions any easier to solidify.
| While I'm confident in myself and my abilities I often sit on my gifts, why I don't know. These past few weeks I've been so thankful for girlfriends that have shown me a whole lot of hard love mixed with encouraging words. While I'm not quite ready to get up off my *ss on a few things I so love them for calling me out. Timing is everything. If you don't have girlfriends that will gather you all the way together, email me, I'll be that friend for you. We all need at least one.
I got this text from a friend early one morning and it has resonated with me for some reason, I guess because it came out of nowhere. This week send a friend a random email celebrating them. I'm adding this to my list of things to do, these little words of encouragement mean a lot.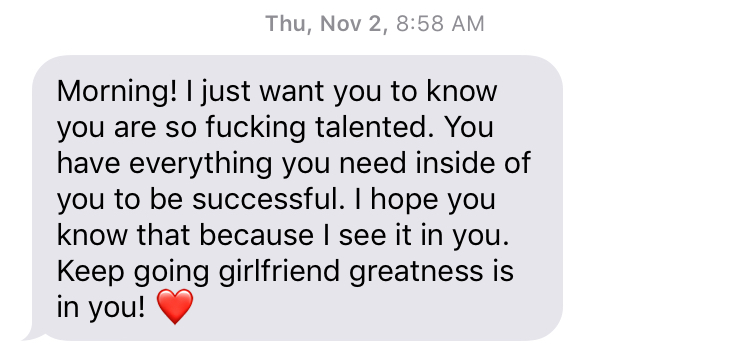 | We're doing a Friendsgiving this year. I need to get the menu together. From the very preliminary looks of it, we'll have the traditional mixed in with crab legs, barbecue, and adult beverages. I can't wait.
| I went over to my neighbor besties house and went in her closet and realized that I have no clothes. I literally did a purge and didn't replace anything. I really need to go shopping.
| I ran up on one of those little free libraries today. I took a book, I'm going back during the week to put a few in. Those things are the best. As soon as I'm done with this post I'm going to start reading.
| I have a tattoo on my wrist. Trying to talk myself out of getting one on my other wrist. It's not working.
| After asking my daughter to clean her room for the past week and her not doing it, today I had enough and packed up all her toys and will be taking them to the Goodwill in the morning. She was allowed to keep her American Girl doll and accessories, one other doll and that's it. The thing is she didn't seem phased at all. This just goes to show kids today have way too much.
| I really want to make time to craft and learn to sew but it always seems like I'm just trying to keep up with life and there isn't room for these things. Truth is there is time for the things I want, and love to do. I just need to focus and quiet the noise. Stay tuned.
| I've been looking all over Craigslist, and thrift stores all across town for an executive desk to refinish like this one from Life on Virginia Street. How about my neighbor posted one in perfect condition for FREE in our neighborhood Facebook group and when I saw the listing someone had claimed it FIVE minutes before I saw the listing. I. Am. Still. Sick. About. It.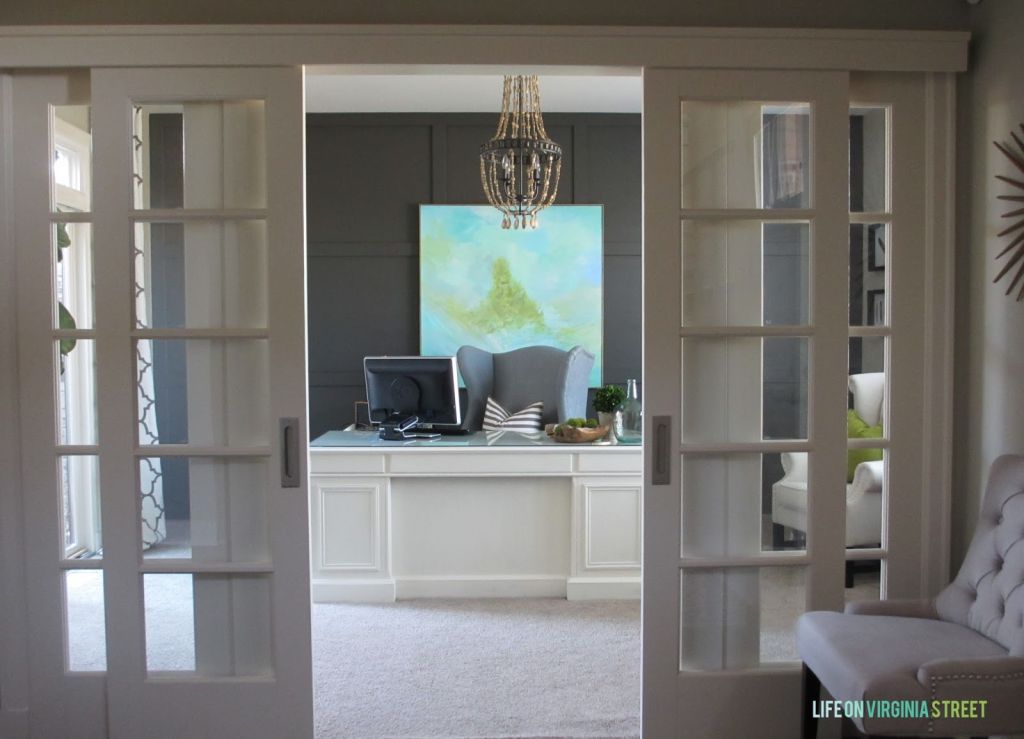 | While I love blogging, my love for video editing has me wanting to delve more into Youtube….like I have time to add ONE more thing to my plate. I went back and was looking at some of our old weekend vlogs and felt so thankful that I took the time to do them because they captured memories of my babies that I had forgotten. That being said I'm weekend vlogging again. Not sure if I will always announce it over here so be sure to follow on Youtube! Here's the vlog from last weekend
Hope your weekend is going well
SaveSave
SaveSave