If you were one of the 10 people who read my blog in the beginning you know back then I absolutely hated to cook. Within the past two years I have really learned to love cooking except in the summertime. I despise cooking in the summer. Summer is all about relaxation not  slaving in a hot kitchen. I would totally eat watermelon and cold pasta salad for the next 2 months but since I have little people and a husband that needs to eat….
Seeing that I have no choice I went on a hunt to compile a list of 5 easy recipes for summer cooking.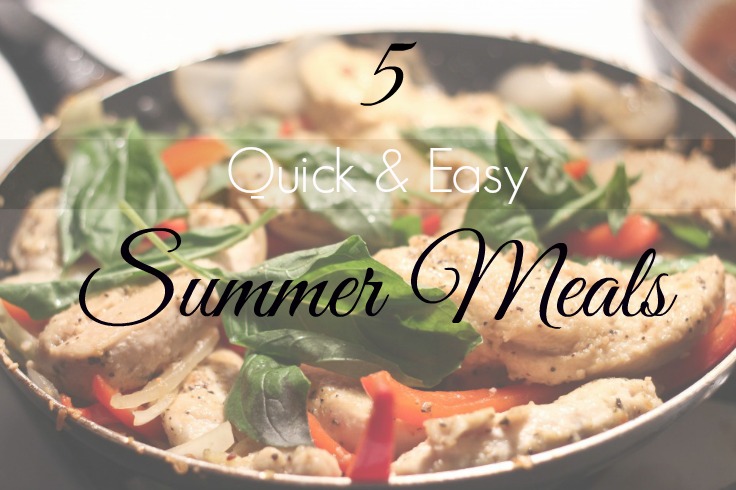 Weight Watchers Slow Cooker Lasagna: I've tried this and it is de.licious. My sister in law sent me this recipe a few months ago. I will say I cheated and didn't use skim anything but I've tried it both ways and it is really good. I was under the impression that people only used their crock pot in the winter. Thank goodness for my FB page fans who got me right about the year 'round use of the crock pot.
Chicken and Basil Stir Fry: I made this recipe here. So good and easy.
Seared Steak Fajitas: Yummy. Made this one as well. Super easy and quick. The steak is marinated in soy sauce and while you would think soy sauce and Mexican food doesn't go together….trust me. I also learned how to warm my tortilla shells on the fire from the burner, which added a great smokey taste to it.  Less than 30 minutes from chopping to plate.
Shrimp and Penne with Spring Herb Pesto: This recipe took a bit of time because the pesto was made from scratch but the extra time was so worth it. Outside of the pesto for the most part this was a one pot dish. Very light and perfect for a summer dinner.
New Orleans Style Barbecued Shrimp: I'm not native to the New Orleans region so I'm sure someone from this area would likely tell you that this is a main stream version. If this is a watered down version then let me find my way to New Orleans to try the real deal. This was a little spicy but the lemon really paired well with the spiciness. This required minimal prep and everything except for the rice cooked in one dish.
I will be trying new recipes and will continue to share them with you. Hope they help you get dinner on the table with minimal effort.
Are you like me and despise cooking in the summer?