Growing up, I don't ever remember going back to school prior to Labor day. While there are still school districts that abide by this trusty rule others are opting for earlier start times, to allow for more breaks during the school year.
July 30th marks the end of  2 months of relaxation and no schedules and begins ten months of everything but. My children are heading back to the classroom and while a small part of me rejoices the other part of me is getting mentally prepared for all that going back to school entails and it includes more than shopping for school supplies and clothing.
Need some motivation? Here are 10 tips to help you get your mind right and your house in order for back to school:
PURGE
Throw ALL of the too little, no longer useful and unnecessary things away. From clothes, to broken crayons, to hair bows. If it's broken, hasn't been used or is no longer useful. Throw it away.
CREATE A STORAGE SYSTEM FOR SCHOOL WORK, CRAFTS, ETC.
Oh, the papers. I'm thankful for one in middle school that brings home minimal paperwork, but with one still in elementary, art work and a lot of junk stuff still manages to make its way home.
Setting aside a folder or a space to store these things make it easier to sort through later…. you know, the part where you decide on which art pieces get to stay and the ones you will toss when little eyes aren't looking.
Here's how I keep up with school work. 
CREATE A SEPARATE EMAIL FOR SCHOOL CORRESPONDENCE
I can't stress this one enough. It has been so helpful having one email address dedicated to my children and their teachers and extracurricular activities. It keeps me in the loop, and things like turning in field trip money doesn't get mixed in with my Target emails.
I even made it cute with emojis.
ORGANIZE HAIRBOWS, ACCESSORIES AND OTHER SMALL ITEMS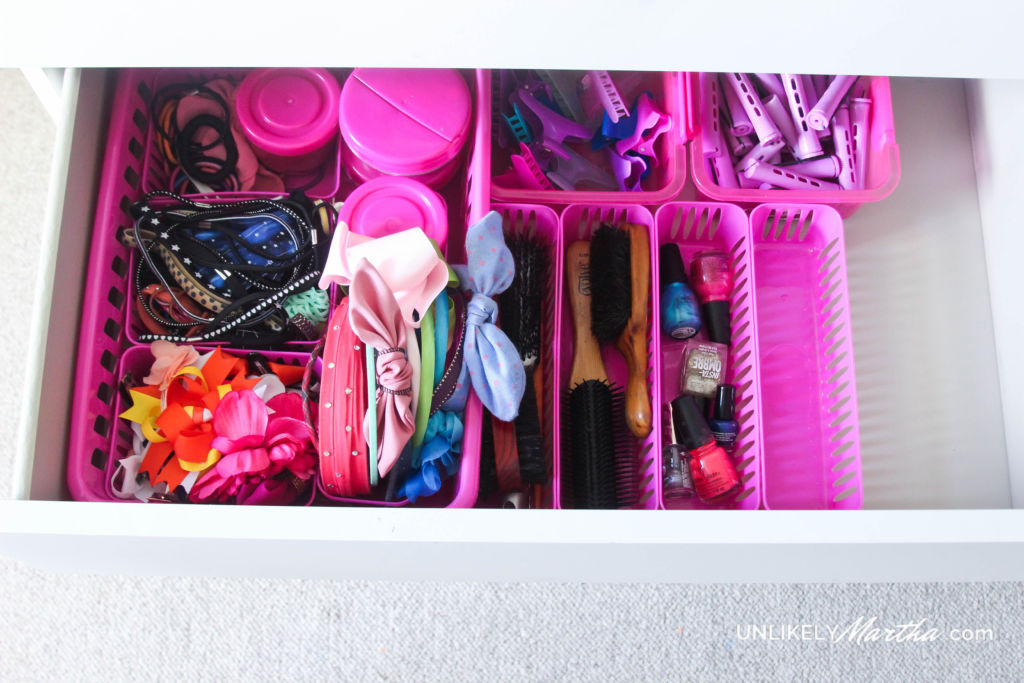 Nothing creates stress like a bunch of little things just out and about. Corral those bows, hair pins, earrings etc. The Dollar Tree has exactly what you need to keep those things together so you know where to find them when you need them.
This $10 hair bow organization system has saved my sanity.
CREATE ROUTINES
Everybody needs a routine. What time will you get up, go to bed, cook and eat dinner, get ready for the next day? Not leaving these things to chance helps your day not get away from you. It also holds older kids accountable for doing what they need to do.
Post the routine up if necessary. Trina over at Babyshopaholic has a great morning chart printable for kids to use
SET TIMERS
When I'm moving, I'm just that. I tend to not pay attention to time so this method works for me. I set them for everything. I know when I should be starting dinner, walking out the door to get someone from practice, or when a meeting is set to start. Timers remove one more thing from the to-do list that lives in your head.
MEAL PLAN/COOK AHEAD
This part.
If I didn't meal plan, we likely wouldn't eat. I don't like eating the same thing over and over again so meal planning is important to me.
If you are feeling ambitious, preparing foods ahead of time for a heat and eat option is great for busy mornings. My heat and eat breakfast sandwiches are perfect for having a good breakfast on the go.  Make them at the beginning of the week and be on your way.
PUT THE SCHOOL SCHEDULE IN YOUR PLANNER OR PHONE FOR EASY ACCESS
Go to the school's website and print out the entire schedule. Place it somewhere for easy access. Take a photo of it and save to your phone, put it in your planner, whatever works best for you. I've found this comes in handy when I'm trying to make appointments or schedule something and need to know the school schedule. Having it on hand versus having to look it up every time has been helpful.
CREATE A WEEKLY CHORE CHART
Cleaning the house needs to be a family affair. I tried doing the bulk of the work, and I'll pass.
I'm still flushing out our new schedule and will share when I'm done. I'm certain the kids will be doing the dishes and folding their own laundry. Please, if your kids are older get them involved.
BULK SHOP FOR SNACKS, DETERGENT AND OTHER HOME ITEMS
Shopping for food and necessities can, and will eat up a lot of your time. Plan your store visits carefully, this not only saves time, it also saves money.
Think about getting a wholesale club membership for things like detergent, lunch snacks and cleaning products. They tend to be much cheaper in bulk and you aren't shopping seemingly every week for home basics. In an average household paper products and detergent will likely last for three months. It is such a small relief to only have to worry about those things a few times a year versus every few weeks.
I hope these tips are helpful in getting your mind right and your home organized for the back to school rush. Have any you want to add, please do! Sharing is always caring.