The post was sponsored by Advent Health for their Feel Whole Challenge
In the summer I literally have to force myself to eat. The heat does something to my appetite so I try to go for lighter dishes when the temperature heats up so I don't waste away.
Last month at our neighborhood book club, someone made a dish with black beans and corn. I asked her in passing what was in it and attempted to make it off the top of my head. I'm not ashamed to say this didn't taste like hers but it was just as good… and super easy.
The hardest part of this was chopping up the vegetables. Was so proud to be able to go out in my garden and grab the tomatoes and jalapenos I needed. Hopefully, when I make this again, I'll be able to grab my peppers from the garden as well.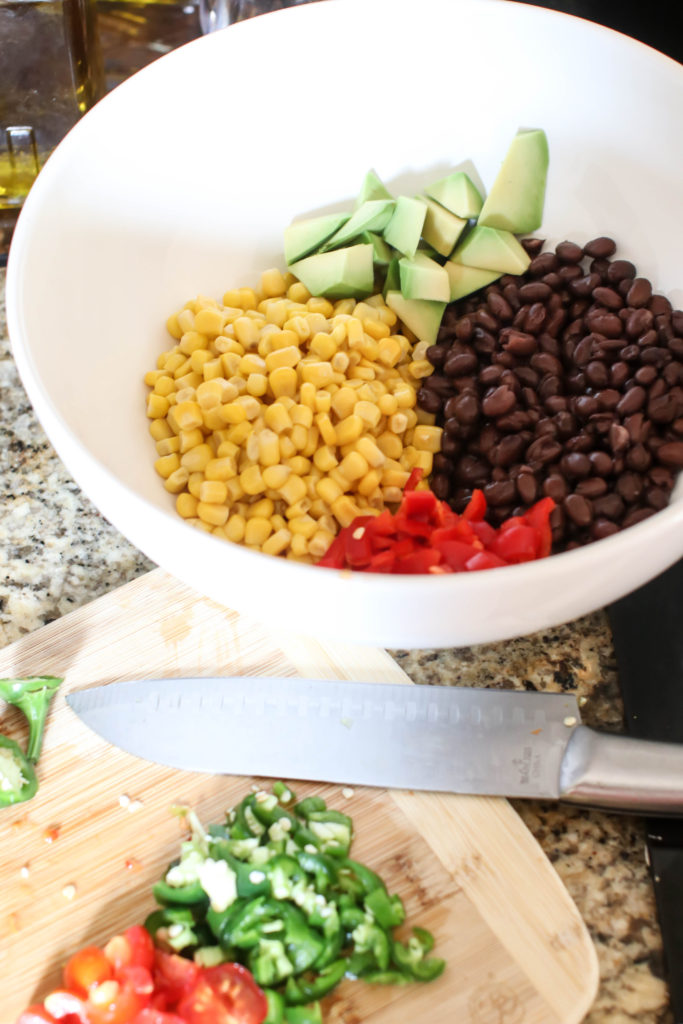 This was so simple. With only a can of corn and black beans, I was able to munch on this over 2 days. It's good on it's own, or paired with tortilla chips. Perfect for a party of 1 or a party of 10!!
Black Bean and Corn Salad
1 Can Drained Sweet Corn
1 Can Drained Black Beans
1 Avocado
1 Medium onion
1 Red Bell Pepper
4 Cherry tomatoes
1/2 Lime
1/2 Cup Italian Dressing
Kosher Salt & Ground Pepper to taste
Chop all vegetables

Stir vegetables together and add salt, pepper, and lime juice

Mix well

Serve cold or at room temperature