Y'ALL.
Last week I received an email from the Digital Editorial Director of Domino Magazine congratulating me on being included as a semi finalist in the inaugural Domino Magazine Design Blog Awards.
As I speed read it, my eyes shifted back to the subject line and then the dots connected and I'm like, "THEE Domino Magazine?"
*reads email again*
All kinds of legitimate verbiage, like this is really real.  I proceeded to look at my competitors and realized that once again I am a very small fish in a big pond of other amazing bloggers nominated in the same category. Although I'm truly the underdog in the category, the bright side gave me all the fuzzy feels that although my reach is smaller, the impact that I am making to be recognized by these types of outlets is an indicator that I'm on the right path and it's okay to continue to grow this brand of mine as authentically and grassroots as I feel.
Nominations were submitted and I am thrilled that enough people thought of this space to get me to semi finalist status.
NOW
I need your votes. The winner of each category will be determined by popular vote. Voting takes place daily through October 31, 2017.
Soooooooo…….in these past seven years if I have ever inspired you to cook, bake, try a new fashion, product, clean your house, organize something or simply lay around and do nothing would you mind giving your girl a vote or 11 to get through the end of the voting period.
It's super easy:
Click this link > Domino Design Blog Awards Voting
Scroll down to the category " A little bit of everything: design, life, travel, and more"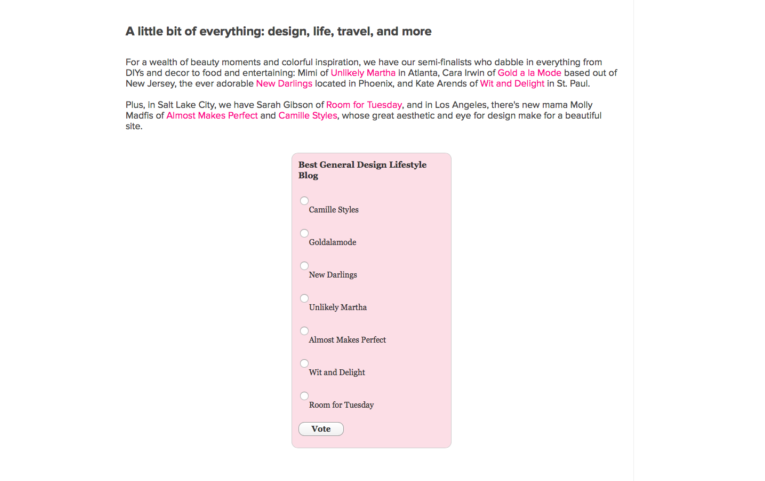 Vote for Unlikely Martha
I always say this but I really am so thankful for all of you that continue to come here and support this little corner of the internet, and for those of you that connect with me on my social channels.
Have a great weekend friends and don't forget to vote and vote again and……..