Cool, crisp weather is on the horizon. While we welcome fall we also have to contend with brisk wind and harsh indoor heat along with other factors that can wreak havoc on our skin.
You know the scenario after coming inside from outdoors, your chapped lips and dry hands not only feel uncomfortable but they look a mess. Not that I would know! During this time of year it is imperative to keep hand lotion and lip balm on hand to ward off the dry skin or might I dare say ash!!
I was fortunate enough to try out some lip balm and hand lotion by eos. If you're not familiar these are the products that come in the very modern ergonomically shaped containers.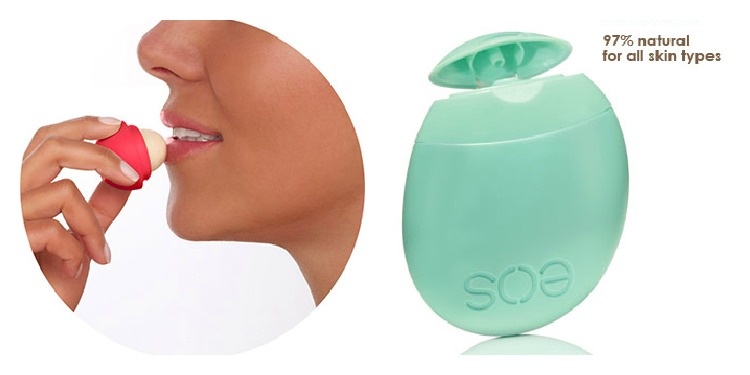 Source
I am a very visual person so off hand I was impressed by the packaging. Not to mention how cool is it that eos is an acronym for "evolution of smooth." The colors were bright and fun which also made them appealing to Lil Mama. Let's just say she couldn't contain herself and my lip  balm is a little ill shaped at this point but it still works!
Packaging is only a small portion of what makes up a great product. The ingredients are just as important. The lip balm lasted a long time. I applied it before going to sleep and I woke up with my lips still moisturized. The lotion lasts a long time with a very light scent and both products take up very little space in my purse.
Lip Balm:
Long-lasting moisture
Shea butter & vitamin E
Smoothes on clear
New smooth sphere precisely glides on to lips
Twist-off top
Gluten-free
Paraben-free
Petrolatum-free
Phthalate-free
Lip balm is 95% organic, 100% natural, and paraben and petrolatum free. Packed with antioxidant-rich vitamin E, soothing shea butter and jojoba oil, eos keeps your lips moist, soft and sensationally smooth.
Everyday Hand Lotion
97% natural formula
For all skin types
Paraben-free
Phthalate-free
Lanolin-free
Dye-free
Dermatologist tested
Hypoallergenic
1.5 fl.oz (44 ml)
eos is reasonably priced and can be found at Walmart, CVS, Target, Ulta. Additional locations can be found by searching on the website under location finder.
Have you ever used eos? What were your thoughts?  Isn't the packaging pretty?
eos can be found on the Web, Facebook, and Twitter
I received complimentary products in exchange for my review. As always and forever more all opinions are mine