This post was sponsored by Wendy's as part of an Ambassador Activation for Influence Central and all opinions expressed in my post are my own
No matter how much planning I manage to do during the week, our weekends just end up being busy. I'll admit some are busier than others but there are things I just need to put off until the weekend because the likelihood of me getting them done during the week is virtually impossible.
Between family, home, my online store, this blog, other things and my FT job, I am a proud card toting member of team too much. Over the years I've learned to embrace my limitations and work with them. I admit, it takes a bit of science to learn how to manage juggling the things you have to do, while finding time to enjoy your life. The good news is there is a sweet spot, and successfully managing your time can help you enjoy a little downtime here and there.
Here's a few tips I have for having a productive weekend:
Start early
I know. Everybody is living for the weekend, to sleep in. Here's the thing, your body is likely to wake on it's own because of your internal alarm clock.
Just get up and get movin. Just think, the earlier you start, the earlier you get done.
Make a List
The ones I specifically use for the weekends are my meal plan, a to-do list, and a to-buy list. You can make your list during the week or Saturday morning, but don't leave home without at least a to-do list if you tend to get off track, like me.
Look at your list and plan it out by activities and places. Batch items that are close in proximity so you aren't all the way across town before you remember you had something to do, or buy on the side of town you just left. Again, I speak from experience.
Grab a Snack
I'm not a huge breakfast eater so I'll rush out of the door and before I know it, I feel like I'm about to pass out. It's these times that I'm not looking for a full meal but something quick and affordable to hold me over until I can get home.
Wendy's is one of my go to spots in these situations, I'll grab a quick chicken wrap from the drive-thru, or take a few minutes of down-time and head in to sit and eat with the kids. I don't like red meat, and Wendy's variety of chicken offerings on the 4 for $4 menu hits the spot. I'll grab a spicy chicken wrap, paired with fries and an order of nuggets, and I'm ready to hit the streets again. The wraps are my jam for those drive-thru days, I can hold with one hand and keep it moving.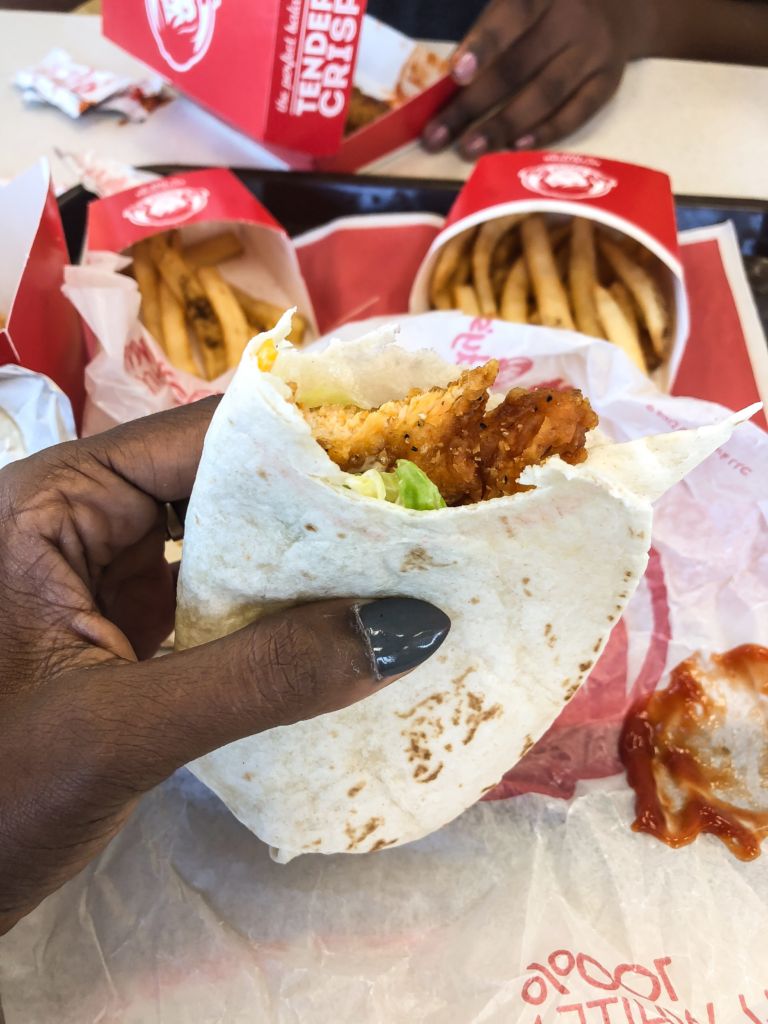 Set a timer
I am easily side-tracked. A trip to Target for 3 items may take me an hour. Setting a timer gives me purpose, It's like I'm competing against myself. I won't lie and say it always works, but if you have a lot of things to do, setting a timer is a great way to get in and out of a store.
Plan Your downtime
We all need rest. Nothing good ever came from running yourself in the ground. Plan something epic for when you get back home, like laying in the bed and binge watching Netflix. Make it a reward of sorts, I'm good for saying "let me hurry up and get home so I can get in my bed." My end goal, and reward is simply to make it home so I can relax and it keeps me focused.
My mother didn't play about Sundays being a day of rest. We went to church, came home and she cooked. My goal is to get back to lazy Sundays, but right now I'm lucky to get a few of those a year. To keep balance, I'm really trying to make that one day of rest a priority and I can get there but it will take a little planning and a lot of discipline to make that happen.
I hope these tips help you at least start thinking about how to plan your weekends so you can get a little rest and rejuvenation for the week ahead!