This post is sponsored by DiaResQ® and The Motherhood. All opinions are my own
I'm not a fan of medicine. Times have to get desperate for me to open up the trusty medicine cabinet, but I will. Learning from experience I have had to make one too many late night, read wee hour of the morning runs to the corner drug store because we didn't have a fever reducer, or something to stop vomiting.
I'm getting ahead of the sickies this year, because it is rare that they pass over here. If and when they  show up, your girl is going to be ready. Last year we fought strep, regular colds (too many times), stomach virus x 5 and a host of other nuisance ailments. Amazingly we missed the flu.
I recently went through our medicine cabinet and took inventory of expired medicines, half empty bottles, and bottles missing measuring cups/spoons replacing them with fresh bottles.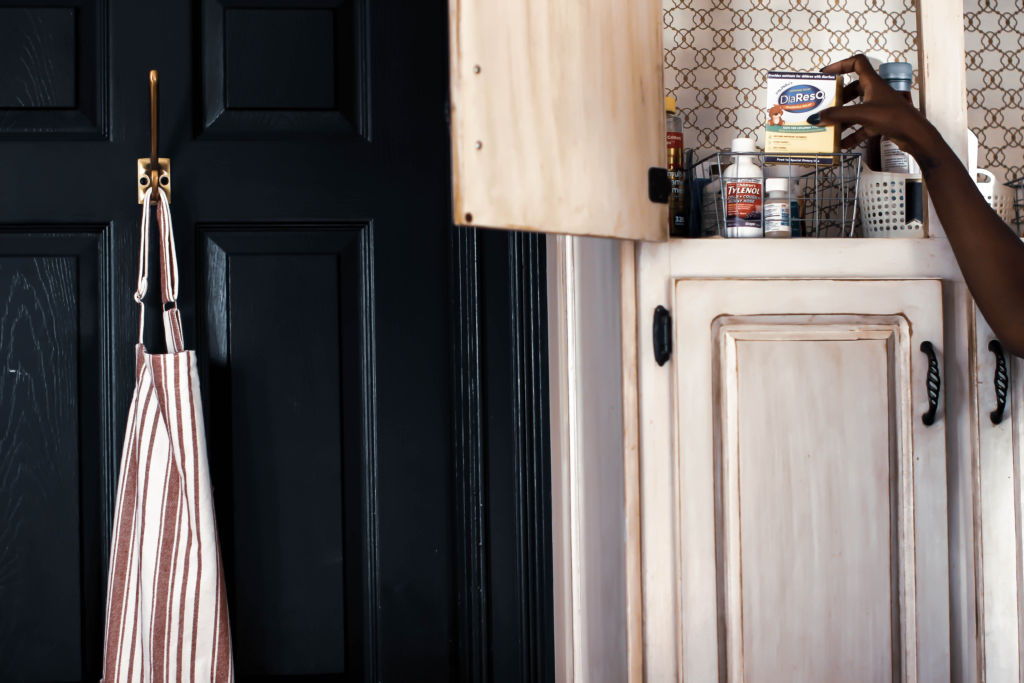 I fell victim to the stomach flu twice last year, the kids only had it once but I suppose the germs from school liked me. Took me out once and came back for a remix. I think I would have rather had the flu. I sweated it out, and didn't take anything but this year I've added DiaResQ to our. It's a naturally-derived diarrhea reliever that is supposed to work fast.
With me not being big on "medicine" I like that DiaResQ is drug and antibiotic free, it's actually a food made from safe, naturally-derived ingredients. It's safe for adults and children as young as one year of age. DiaResQ has been clinically demonstrated to resolve most cases of diarrhea on day 1 of use. (meanwhile I was on the BRAT diet for like a week).
Diarrhea as unpleasant as it is, is the body's natural immune response to try and remove an invading microorganism, and some other products work by slowing that response ( and trapping that organism in your body). DiaResQ is different-it works with your body to address the underlying issue fast.
At the first sign of any type of stomach bug, I'm going to be like take this. It's available at CVS and Amazon, but I encourage you to get it before you need it, cause the law of motherhood makes theses things present at the most inopportune time.
Now that we are all up close and personal about these things, I'm going to send you here to learn more about DiaResQ to see if it is an option that you may find use for in your family. I haven't used it yet, but options and knowledge are always good, especially when it comes to products we give to our children and ourselves.
*DiaResQ is not intended for the relief of chronic diarrhea, nor for infants (children aged 12 months or less)