Mother's day is around the corner and while it is the thought that counts, a fabulous gift never hurts!
You don't need to break the bank to find luxurious gifts; which is why all of the items below are below $100.
Hopefully you find something for your own mother, or you can use the guide to give your family some friendly inspiration on what to get you for Mother's day!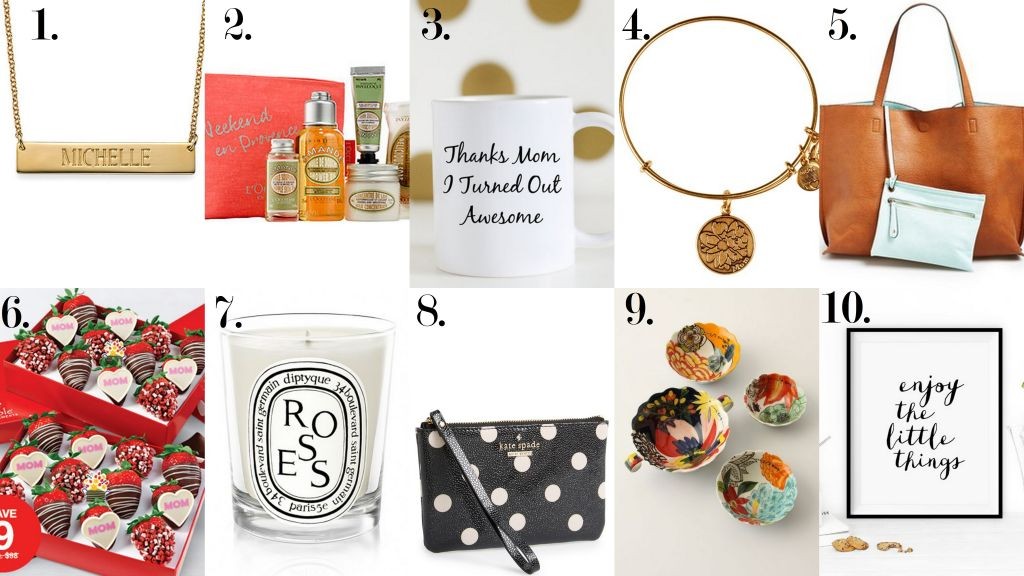 1. Pynk Luxe Name Plate Bar Necklace: This name plate necklace is such a fun and personalized gift. The great thing about simple pieces like this one is that you can wear it with so many different outfits. This necklace comes in silver, gold, and rose gold and the prices vary from $75-85 depending on the finish that you choose.
2. L'Occitane Weekend En Provence Almond Discovery Set: L'Occitane's products are definitely luxurious and this sample set lets you try an array of products from their almond line for $36.
3. Abby and Grace Mug: If you and your mom have a light-hearted relationship then this fun mug is a great gift to give. It retails for $16.
4. Alex & Ani Mom Charm Bangle: You've probably seen these bracelets gracing the wrists of many women recently. They are so classic and Alex & Ani has released a mother's day charm bracelet that retails for $28.
5. Street Level Reversible Tote & Wristlet Set: This faux leather tote & wristlet set is a great option for the woman who likes to toss everything into one big bag and keep moving. It's also a good bargain, the set costs $48.
6. Edible Arrangements Chocolate Covered Fruit: If you are buying for someone who prefers edible gifts then chocolate covered fruit is always a safe bet. Edible Arrangements has a great package that is designed for Mother's day that starts at $49.
7. Diptyque Paris Mini Candle: These candles are on the expensive side, but they are definitely worth it. Diptyque has a huge array of scents that fill any room with luxurious fragrances. Their mini candles retail for $30.
8. Kate Spade Card Holder: Card holders are an easy way of minimizing the amount of items in your wallet and with this holder designed by Kate Spade you can do it in style! This item retails for $48.
9. Anthropologie Floral Measuring Cups: Home ware doesn't have to be boring. These adorable measuring cups cost $38 and are sure to please any woman who treasures the look of her kitchen!
10. Motivational Typography Print: Inspirational prints make for wonderful gifts, especially for women who love decor. This print ranges from $12.50-$25.50 depending on the size and the Etsy shop that it comes from, The Motivated Type, has a great range of prints to choose from.
Be sure to check out what the rest of the ladies of the Fab Top Five Series have put their spin on for Mother's Day
Fab Haute Mama – Top 5 Gifts for New Moms
Everyday Eyecandy – Top 5 Ways to Get in the Photo with Your Children
Kokoa Mag – Top 5 Ways to Get Through Mother's Day Without a Mother
Bernetta Style – Top 5 Gifts Moms Don't Want for Mother's Day