This post has been sponsored by Lunchbox. All opinions are my own.
I'm an avid Publix shopper for items that I can't and don't pick up from the Farmer's Market. I find the BOGO deals to be great, especially when it comes to lunch box goodies for the babies. With the Superbowl approaching, there are rumblings that the big party will be here….at my house. We've never hosted before so this should be interesting.

In the next few weeks when I head to Publix to pick up  items for the party, I will also pick up our personal care  items. We're a Dove family, body wash for me and Mens + Care for the guys. I love saving a dollar, so I am happy to see Unilever and Publix  teaming up to show how we can all "Discover More In Store" with great deals on the best in hair care, skin care and deodorant. With the great deals currently running be sure to assemble your personal care lineup with brand MVPs you already know and love like Dove, Suave, Axe, Degree and more!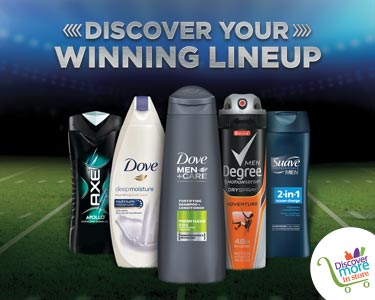 To get in on the deals be sure to visit the Discover More In Store Facebook Page for savings, how to's and beauty tips.
To help you get a jump start on your game day shopping Publix is offering one of you a $25 giftcard. 2 easy entry methods.
Good Luck!