When I tell you a clawfoot tub has been on my wish list forever, believe me the first time. I have actually put off any real strides toward renovating our master bathroom because I just knew the perfect tub was somewhere with my name on it… at a decent price.
On a chance encounter with a quiet backroad very early on a Saturday morning dropping my car to the mechanic, I spotted a clawfoot on the side of the road. My husband was already already too far ahead of me to turn around, so I called him and told him I wanted to stop back by on our way home.
Twenty minutes later we were parked on the side checking out the tub. It was still very early in the morning so I jotted down the number fully expecting it to be out of my price range, yet counting down the minutes to 9a so I could give the number a call. Like with all the anxiety that someone had already beat me to it.
I texted at 8a, and when I didn't get a response I called around 9a.Fully expecting to pay around $650-$800 for the tub cause that's the going rate, I was extremely shocked the tub wasn't sold AND that he only wanted $450 for it. Ya'll Favor ain't fair. Not only was it only $450 he even volunteered to deliver it since he was local and it was already on a trailer that he could easily hitch to his car.
Prior to delivering the tub, he called to make sure I still wanted it. He mentioned there was a man at his house that stated he had called the night before to ask about the tub but didn't get a callback. The seller said since he didn't see a message or a missed call from the man he thought it was only fair that he double double-check with me since I was the first person he spoke with. I confirmed that I wanted MY tub, we set up a delivery time and he dropped it off.
Y'ALL!!! Favor ain't fair!
Turns out it is an original Standard tub, I could probably sell it on FB marketplace for more than I paid for it, but NOPE.
So if you watched me on Instagram you already heard all this before, thanks for sticking around to see what's next!
Mimi, you've had that tub for over a month, what are your plans?
Glad you asked!
When we do renovations around our home we pay cash for them, so the budget is real. I've decided to break the project down into a few stages.
First Stage:
We hope to embark on the first stage by the end of July. We need to get the original soaker tub out, we plan to have a roll-off dumpster dropped off at the house so we can remove the existing tub and (the rest of the junk in here that we don't need). Once we have the tub out, one of my good neighbors owns a plumbing company, we'll have him come in and give us a quote on how much the plumbing is going to cost. We hope to have that part completed by the end of August so we can start laying the tile.
Here is an example of the type of fixture I'm looking to have installed.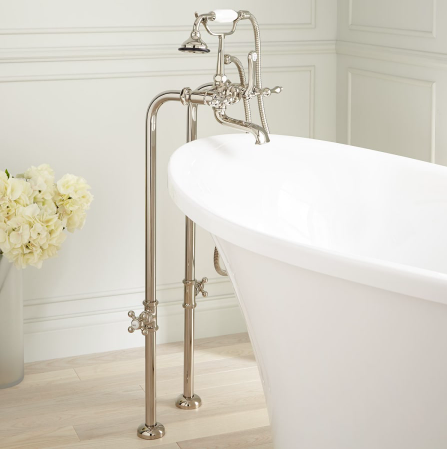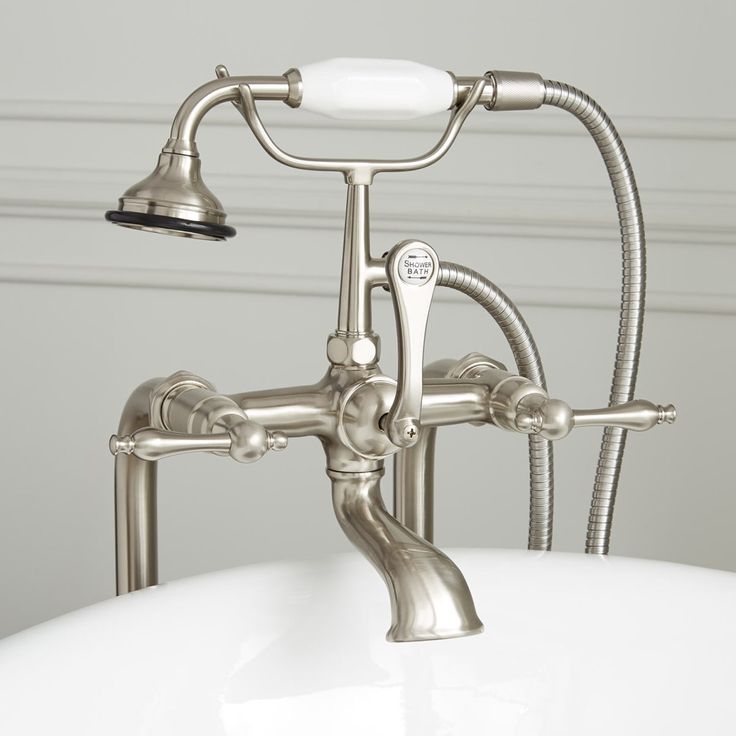 In the interim, while the tub is in decent shape it's likely that we'll need to add another coat of glaze to it so it's nice and shiny. We'll likely DIY that part so stay tuned! Once we're ready to move forward with the style direction of the bathroom, I'll share photos of the current space.
Make sure you're signed up for my newsletter or following me on Instagram so you don't miss any of the progress.