*Sponsored post by Lunchbox, all opinions are 100% my own.
Your busy day-to-day can take a serious toll on the quality of your skin. But now, thanks to Vaseline found at Family Dollar, you can find an affordable solution for dryness and see healed skin in just 3 weeks! Starting 11/3/14, print your coupon and bring it in-store for $1.00 off the new Intensive Care Lotion: bit.ly/1tJbLMN

I took the Rapid Renewal Challenge, by using the new Vaseline Intensive Care Lotion. The minute we turn the heat on in my house my skin feels it. The dry heat wreaks havoc on my skin, specifically on my legs. I received my bottle of Vaseline Intensive Care lotion just in time. I've been using it for about 2 weeks and I've noticed that my upper thighs, which is my problem area really hasn't been as dry. I still get the "itchies" but as soon as I put the lotion on I feel instantaneous relief.
 I also  love the smell. Some lotions that pertain to dry skin have no smell but this one had just enough to make me feel clean…if that makes sense!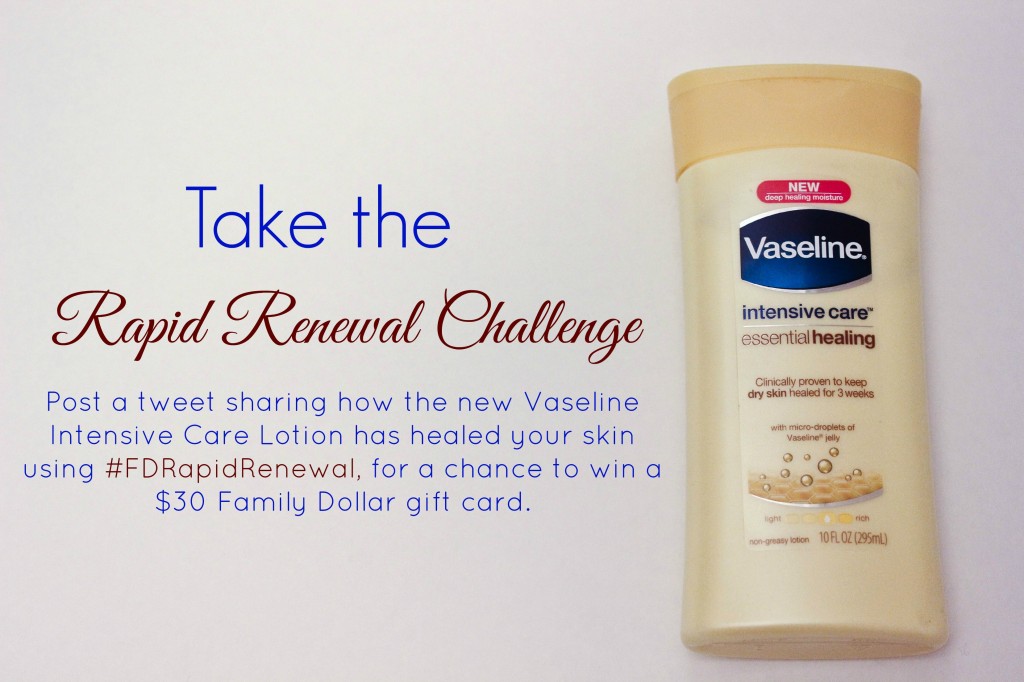 Take the Rapid Renewal Challenge and feel the difference in just 3 weeks! Post a tweet sharing how the new Vaseline Intensive Care Lotion has healed your skin using #FDRapidRenewal, for a chance to win a $30 Family Dollar gift card.