I'm not a breakfast person. At the most I'll grab a banana or a granola bar before I hit the door. In defense of skipping the most important meal of the day I am really not a huge eater and if my stomach isn't growling food is usually not on my radar. Seeing that I've been really sluggish lately and not eating correctly or drinking my water I thought it would be nice if I tried out some sort of breakfast bake that was good and would break up the monotony of the usual cereal or cream of wheat I manage to get down a few mornings a week.
Last week I mentioned the awesome devotional book that I'm loving right now, Savor and the recipes included. I decided to give the first one a whirl, as I do plan to make it through all of them. I'm not a huge fan of blueberries so I was a little apprehensive but I loved it. I've had a small slice in the morning with my coffee and a banana.
Recipe was super easy and required minimal ingredients. Of course my little helper was on hand, all in the way and making a mess.
Fresh blueberries got washed and tossed in a little sugar to add some extra sweetness to the mix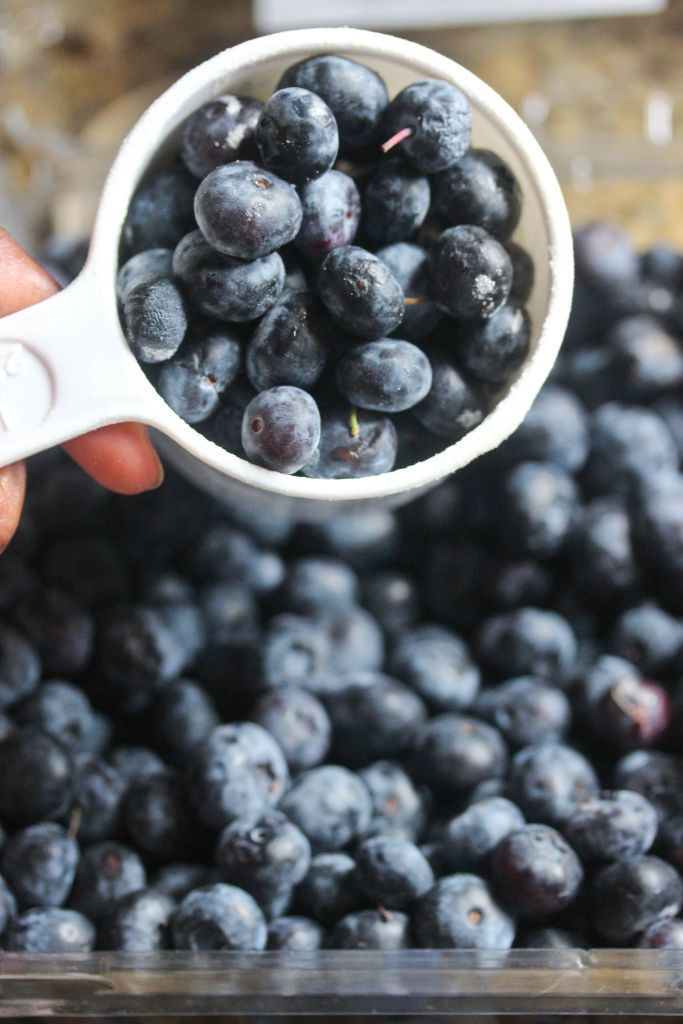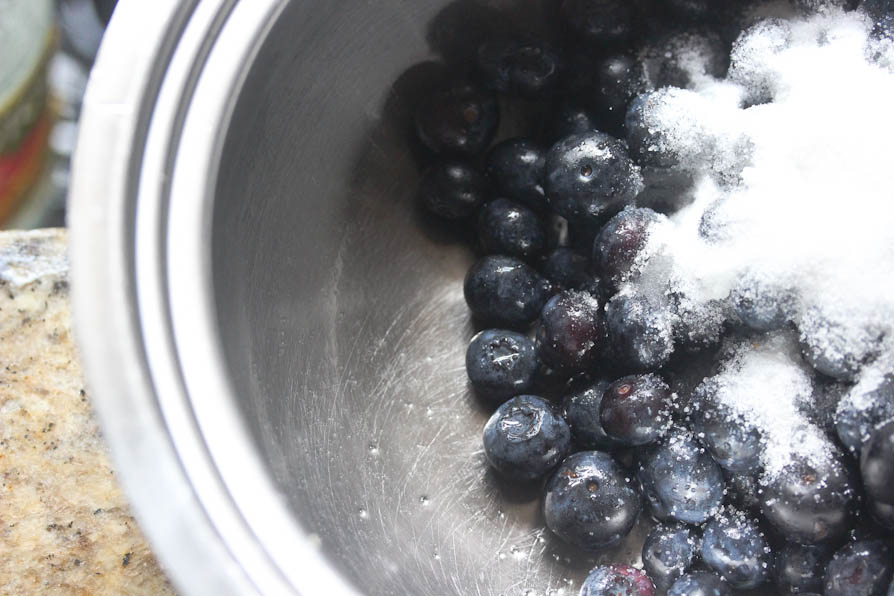 The recipe called for a spring form pan. Again, cause I like a good remix I just went a regular glass baking dish. I've never used a spring form pan so I don't know what the difference would've been had I used one.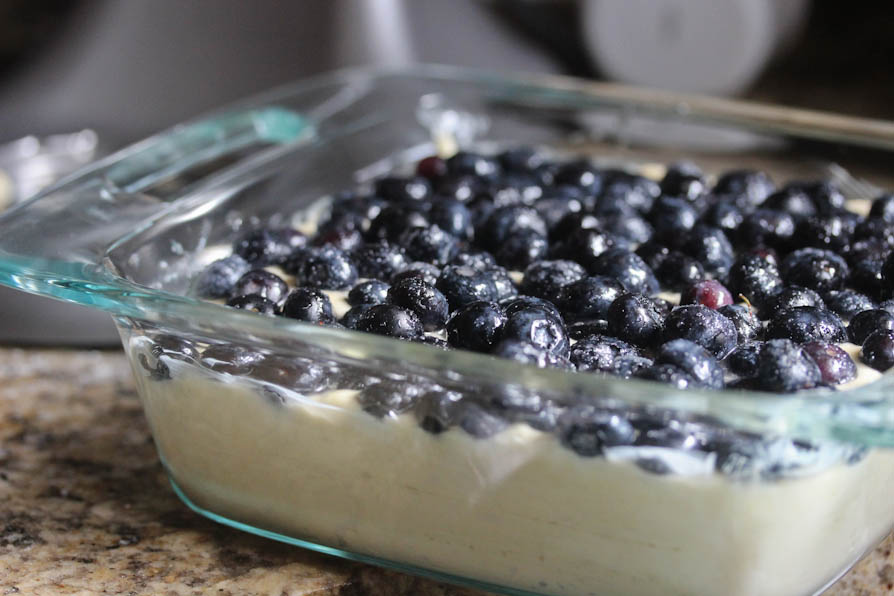 Don't fret. Although the blueberries are sitting on top of the batter they do manage to sink down during baking and find themselves inside the mix all gooey and yummy. After 50 short minutes the house smelled glorious….
She didn't get the whole a pot watched analogy I gave her. I think of the 50 minutes baking she spent 40 minutes off and on watching. I used to do the same thing. I mean can she be any closer.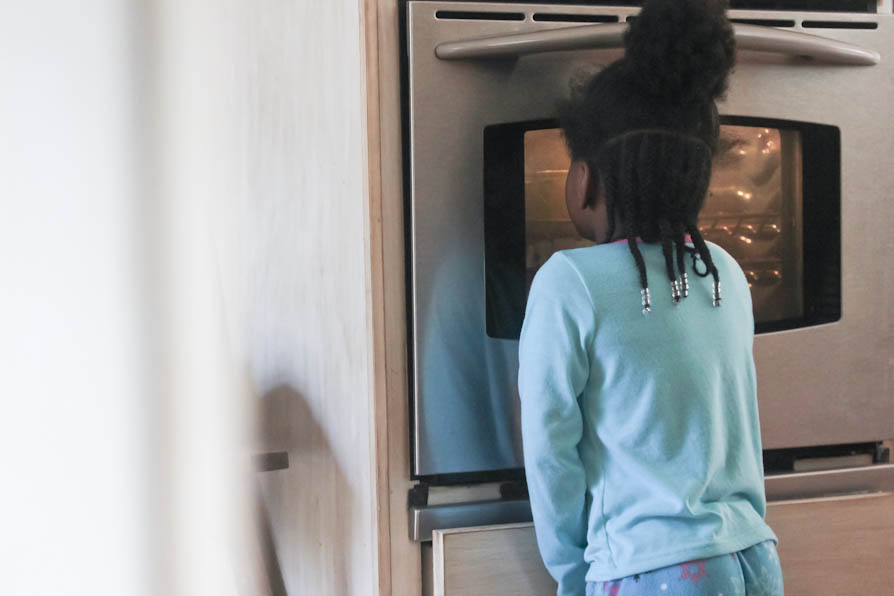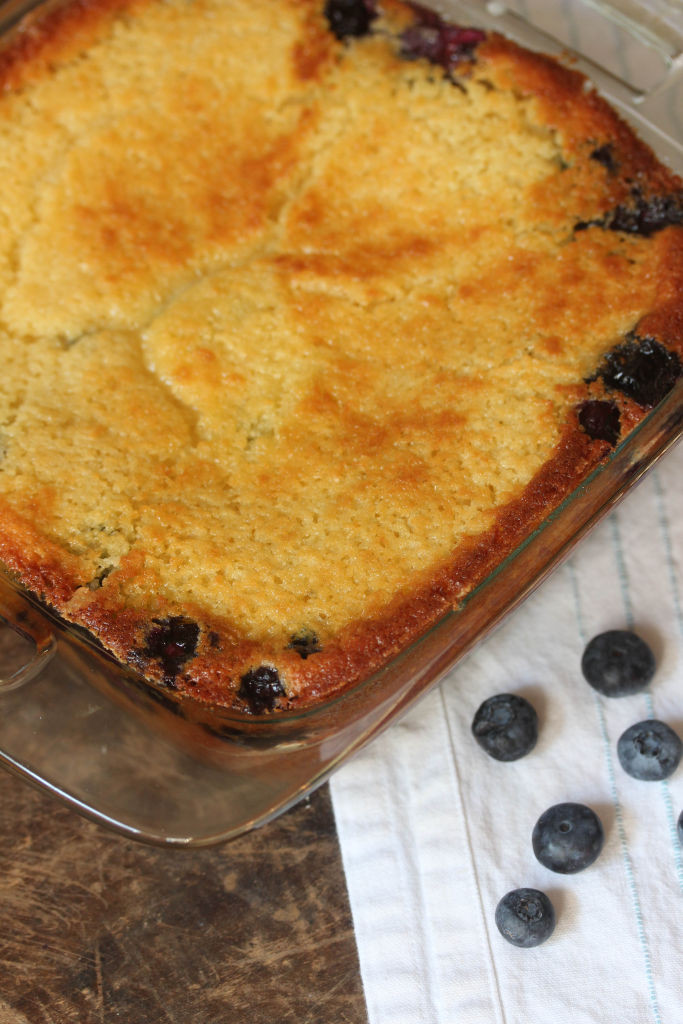 Blueberry Yogurt Morning Cake
Author:
Prep time:
Cook time:
Total time:
Ingredients
1/2 cup butter softened, plus more for the pan
1 cup sugar, plus 2 tablespoons for the berries
3 eggs
1.5 cup plain yogurt
1/4 teaspoon almond extract
2cups all purpose flour
1.5 teaspoons baking powder
1 teaspoon baking soda
2 cups of blueberries
Instructions
Preheat oven to 350 degrees. Butter a 10- inch springform pan, and line it with buttered parchment paper
In a large mixing bowl, combine butter, sugar, eggs, yogurt and almond extract. Mix well. Add flour, salt, baking powder, baking soda and mix by hand until combined. Be careful to not overmix. Pour the batter into the springform. Toss the berries with the 2 tablespoons of sugar and then scatter them over the top of the batter.
Bake for 45-55 minutes, or until a toothipick insterted in the center comes out clean. Let cook for 10 minutes.

Save