A few months ago, I purchased a gel manicure light from Walmart so that I could start doing my own DIY gel manicure for a variety of reasons. One, I just didn't have the time to get to my nail tech as often as I needed to, and two, nail appointments can start to get expensive… and now add in social distancing. I've been trying to be mindful of my spending, so this was an area that I recognized as one that I could make adjustments in.
Would you believe all of the essentials I needed cost less than one trip to the nail salon. Yes, I got the light, base coat, and top coat for less than one trip to the nail salon.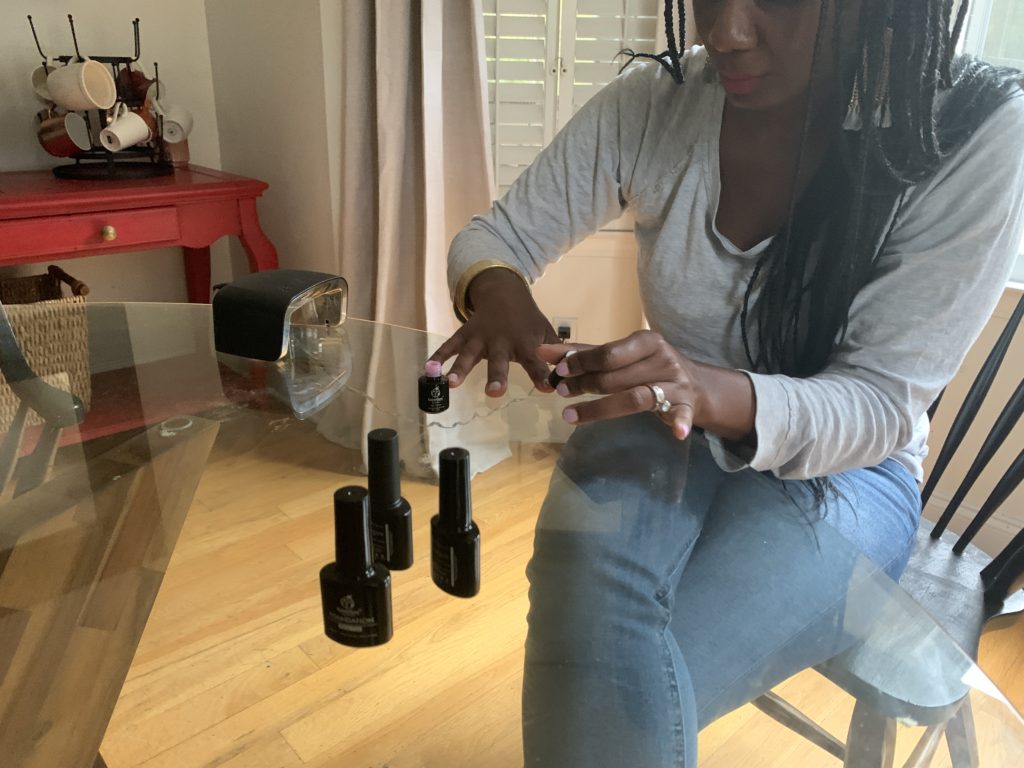 How to Paint Your Nails with Gel Polish
Painting your nails with gel polish is similar to regular nail polish with the exception that you have to make VERY thin coats. When I say thin, I mean thin. If you use too thick of a coat, the polish will chip. It is far better to make four thin coats than two thicker ones when dealing with gel polish.
Start with clean nails.
Soak your cuticles in warm water for about 10 minutes and lightly push back your cuticles. I don't cut my cuticles I only push them back. Making sure to remove dry cuticles from the edges of your nails will make all the difference so please take time to do this step.
Once your cuticles are in order you will file, lightly buff and shape your nails.
After filing, you will put a very light coat of "base gel" on your nails and cure under the light for 30 seconds.
On top of the base coat, you will start to apply the nail color. Do as many light coats as needed to get the coverage you desire, curing for 60 seconds between coats.
Once you have the coverage you desire, it is time to apply the topcoat. When applying the topcoat, be sure to wipe the tips of your nails as well to help prevent chipping.
DIY Gel Manicure Essentials: (These are affiliate links. If you purchase I will make a little change)
Gel Polish Kit ($21.99): https://amzn.to/3aa5qkS
Base and Top Coats kit (12.99) : https://amzn.to/3afDZX1
Fall color Gel polish kit ($14.99): https://amzn.to/2xgi5US
Gel Light Starter Kit ($24.88) : https://www.walmart.com/ip/Sensationa…
If you learn better via video, I have also created a YouTube video showing my technique. Feel free to watch and make sure to subscribe to my channel!
Let me know if you have any questions. You can find me on Instagram everyday… hit me in my DMs!