One pot meals are everything when it comes to getting dinner served quickly during the week. Monday – Thursday is the busiest part of our week so easy dinners are a must. They are a great way for me to prepare dinner ahead of time so I've been experimenting a bit with a few and this chicken and sausage dirty rice recipe will be added to the rotation indefinitely. It's a great alternative to the famous beef and broccoli recipe we all love.
One Pot Chicken and Sausage Dirty Rice
I adapted this recipe from The Chunky Chef and made it a little milder for the kids.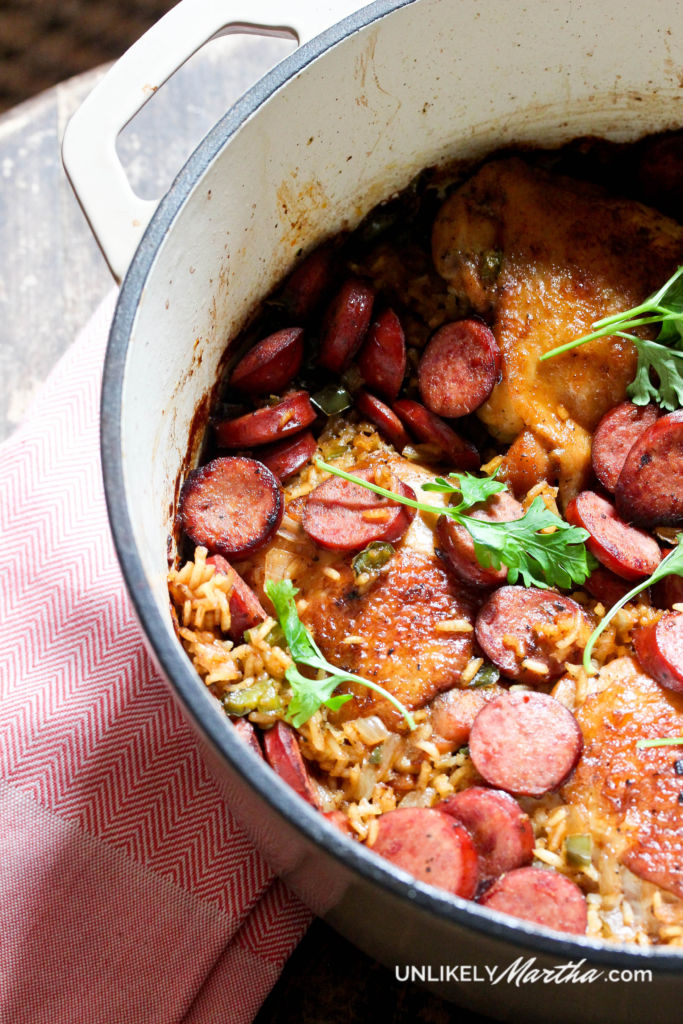 One Pot Meal | Chicken and Turkey Sausage Dirty Rice
Recipe Type
:
Chicken Recipe
Prep time:
Cook time:
Total time:
Ingredients
C H I C K E N M A R I N A D E
1 tsp Salt
1 tsp Garlic Powder
1 1/2 tsp Paprika
1/2 tsp Pepper
1/2 tsp Dried Onion
1/2 tsp Oregano
1 TBSP Olive oil
R E M A I N I N G I N G R E D I E N T S
2 Tbsp Olive oil
1 Green Bell Pepper
1 Package Turkey Sausage Links
4 Chicken Thighs
1 Diced Onion
1 cup DRY long-grain rice
2 1/4 cup chicken stock or broth
Salt and Pepper to your personal taste
Instructions
C H I C K E N M A R I N A D E D I R E C T I O N S
Mix all of the ingredients together to make a paste. Rub your chicken thighs with the paste
C O O K I N G D I R E C T I O N S
Brown cut up sausage in a bit of olive oil. Once cooked remove from pot
Add more olive oil to pan if necessary, sear chicken thighs on each side. Remove when browned
Saute onions and bell pepper, stirring up brown bits from chicken and sausage
Once vegetables have browned add in rice and give a good stir
Add in chicken broth and bring to a slow simmer
Put chicken thighs back into pan tucking them into the rice and top with sausage
Place lid on pot and place in oven at 350 degrees for 40 minutes or until all liquid has cooked into the rice
Cook With Me: Chicken and Sausage Dirty Rice Video
The steps to this chicken and sausage dirty rice may seem like a lot. My cook with me video on Youtube shows you just how easy the steps are. Take a look!
Enjoy! Be sure to connect with me on social to let me know how it turned out if you try it!
Save
Save
Save