I'm partnering with U.S. Soy to bring you this easy weeknight dinner recipe.
My children are back in school, which means I am back on the cooking bandwagon. If you didn't know, my kitchen skills dwindle down to zero during the summer and pick back up when school starts. One of my favorite quick and easy dinner go-to meals is spaghetti. Well, I'm trying to do a little better with my carb intake so I've been using edamame spaghetti noodles instead. Yes, edamame spaghetti.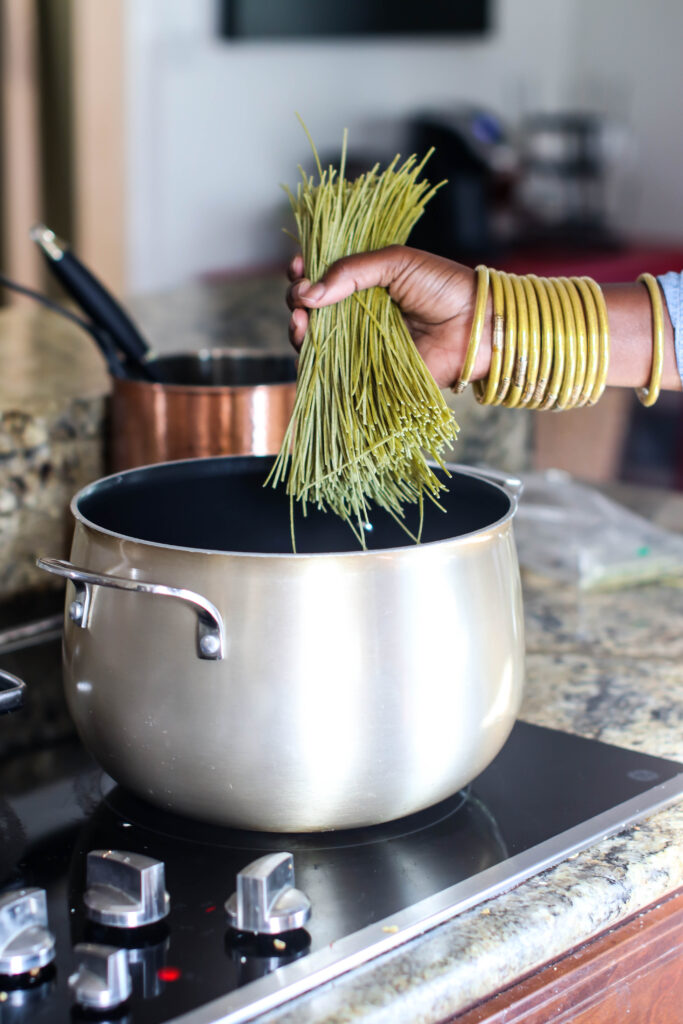 I promise, it tastes very similar to traditional spaghetti. Not to mention when you purchase soy based products you are supporting U.S. farmers and their families. 97% of U.S. farms are family owned and when we support them we also help support our local economies and sustainable farming practices employed throughout the U.S. Learn more about how you can support U.S. farmers with your food purchases by visiting SupportUSFarmers.com and taking the pledge to stand behind our farmers who are making sure our shelves stay stocked during this time of absolute uncertainty.
I'm thankful for our U.S. farmers working hard daily to make sure I have food to put on the table for my family… now if they could just come over and cook it for me!
You don't have to make this recipe difficult for a weeknight dinner. Usually, I like to make my sauce from scratch but on nights when I need to get dinner on the table I'm not above opening a jar of organic spaghetti sauce and letting it do the heavy lifting for me. Do what's best for you.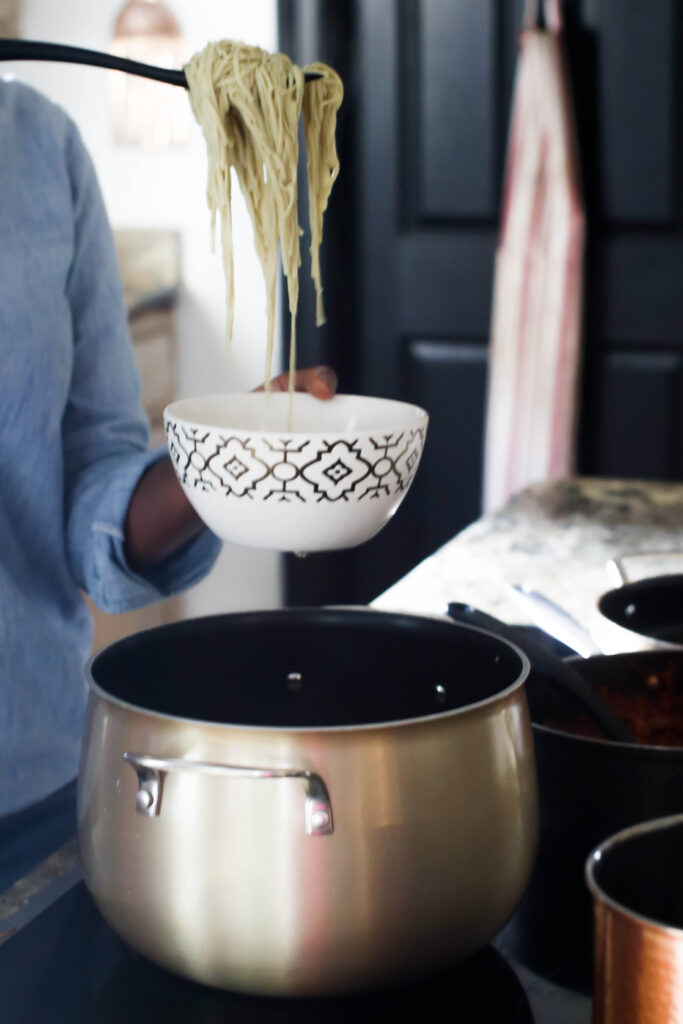 Edamame Spaghetti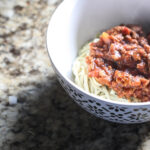 edamame spaghetti recipe
1/2 cup chopped onions
1 tbsp Extra virgin olive oil
1 box edamame spaghetti
2 lbs lean turkey meat
1/2 tsp dried oregano
1/2 tsp dried thyme
1/2 tsp garlic powder
1/2 tsp onion powder
1 clove garlic
1 jar Spaghetti sauce
Season turkey meat with dry seasonings

Chop onions and garlic while waiting for water to boil

Sauté onions and garlic in olive oil over medium heat. Be careful not to burn the garlic

Once the onions and garlic are translucent and fragrant add seasoned turkey meat and brown

Once meat is brown, add spaghetti sauce. Turn heat to low and simmer.

While sauce is simmering, boil edamame noodles until tender. Will take around 5-7 minutes. Refer to the package for exact cooking time.
Here's to a new school year, and getting back in the kitchen. Stay safe, and be sure to head over to SupportUSFarmers.com to take the pledge to support our U.S. farmer's families who help us feed ours daily!