Here in the South we have experienced a taste of all four seasons in the span of one week. While temps  easily hit the 70s for a week straight in February, I am old school and subscribe to the fashion theory of dressing for the season and not the weather. I will not be caught dead in sandals before the end of April and pass not one morsel of judgement on those who do. As I am truly unbothered about what you choose to put on your body.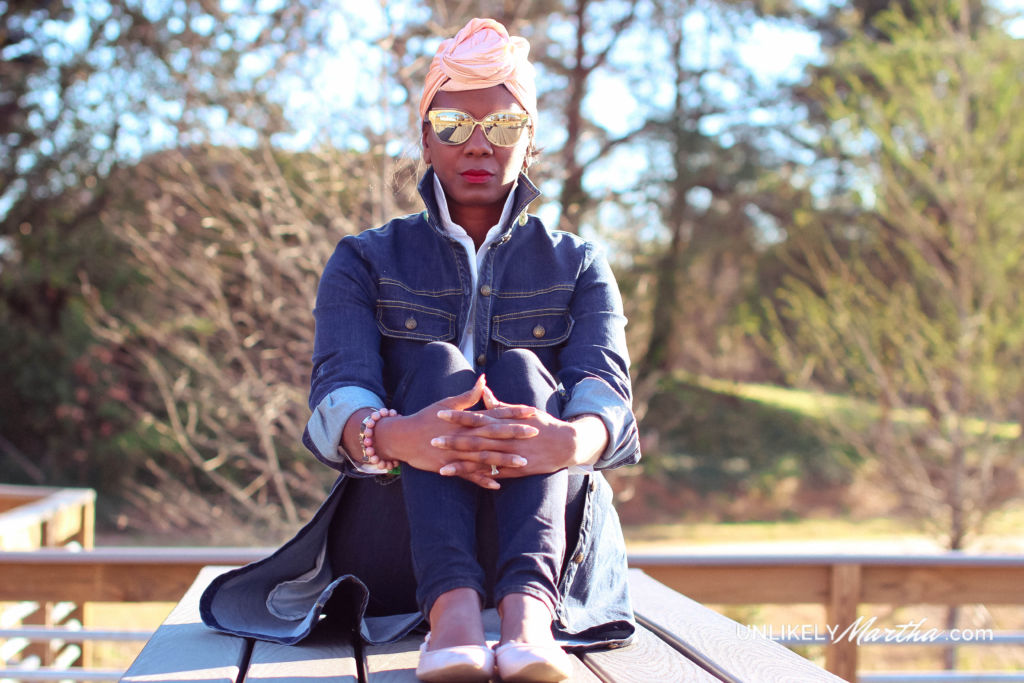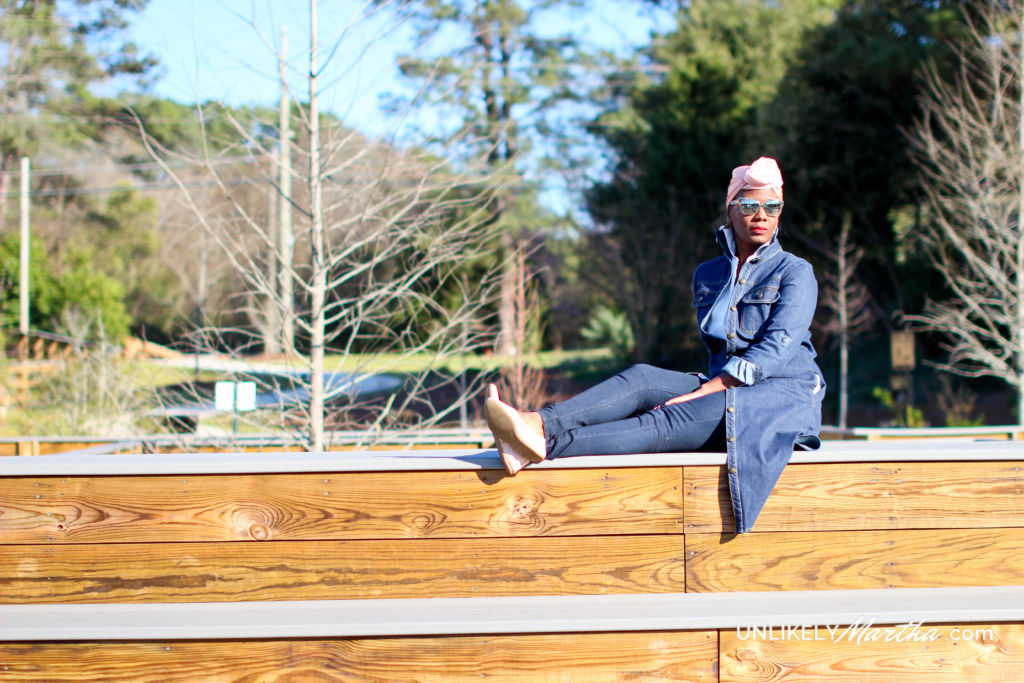 So you can imagine my  fashion theory has left me a little perplexed on how to dress for this crazy, sporadic weather. I figure you can never go wrong in Spring with layering your clothing, rocking a little denim and throwing on your favorite flats.
Oh, and please don't forget your accessories. They can easily pop a plain outfit.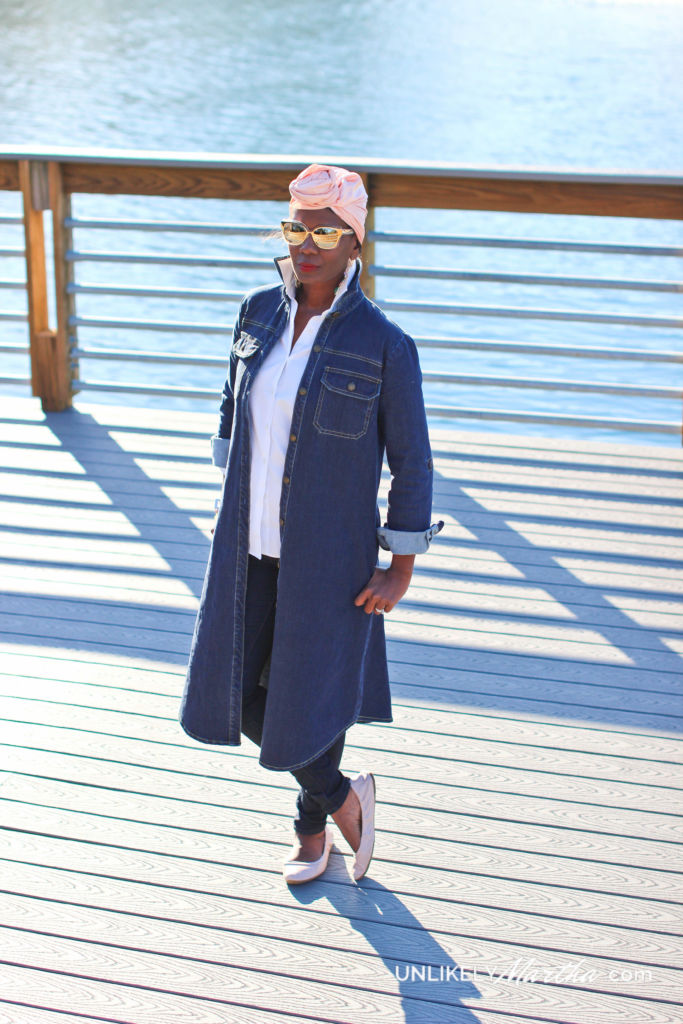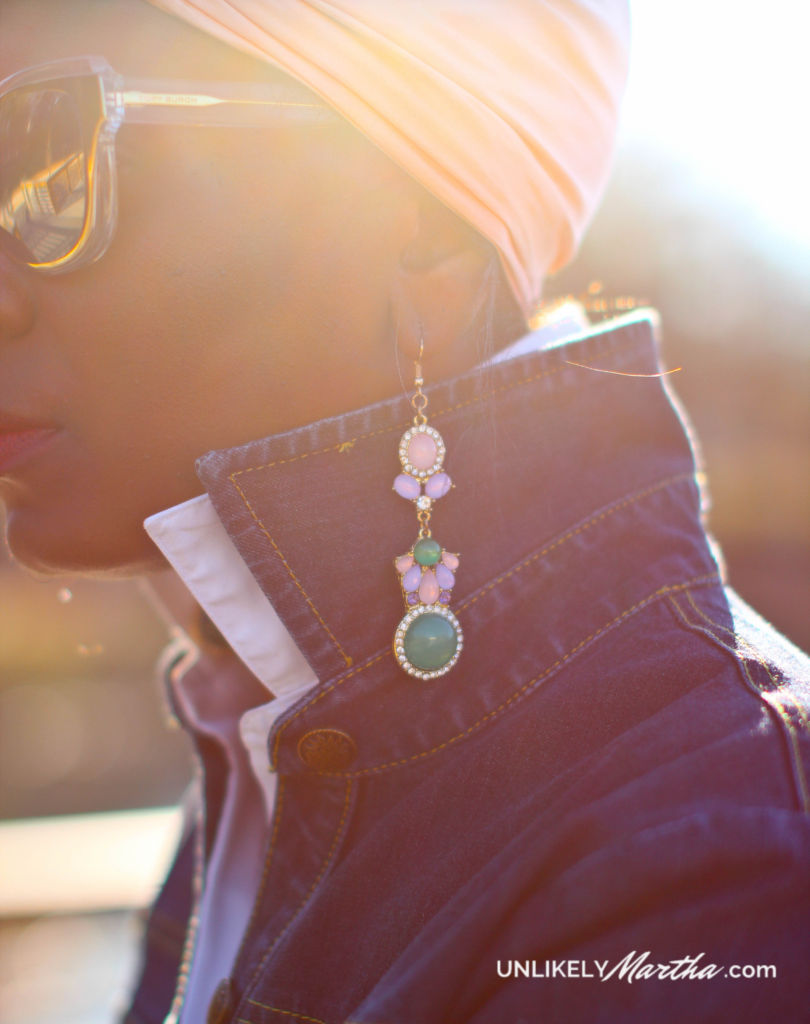 I customized this denim dress on Eshakti, by selecting the length, neckline, and sleeve length. Once I received it, I realized my Summer body had not completely arrived and it was a little snug buttoned up, so I opted to wear it as a duster.
….or a cloak, as my son calls it.
It's weighty enough to keep me warm on cool mornings and evenings but light enough to act as a layer for warmer days.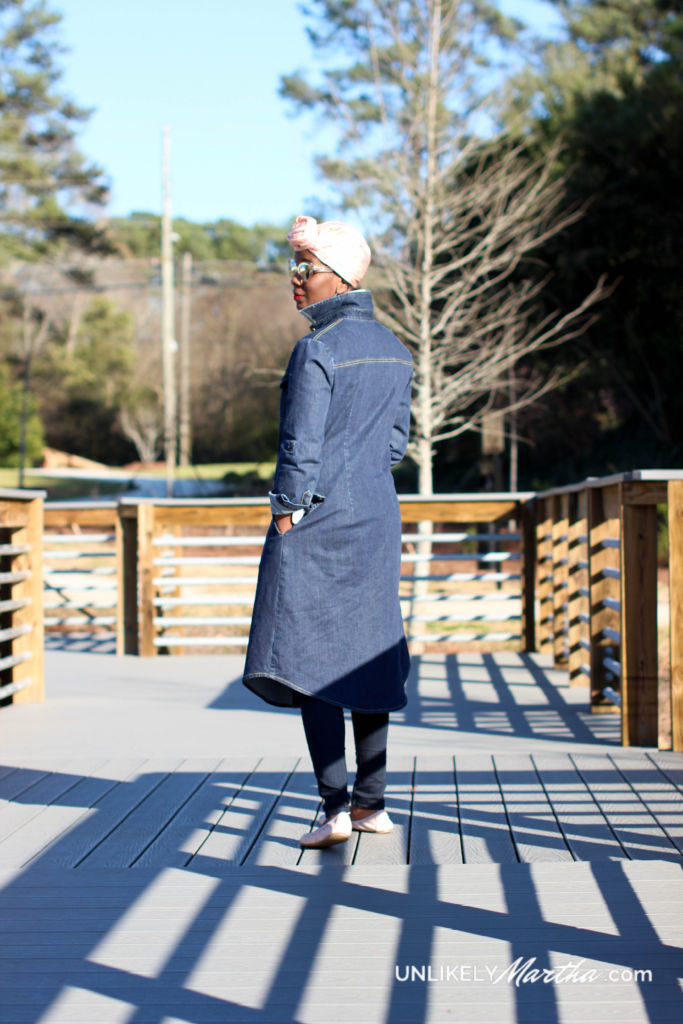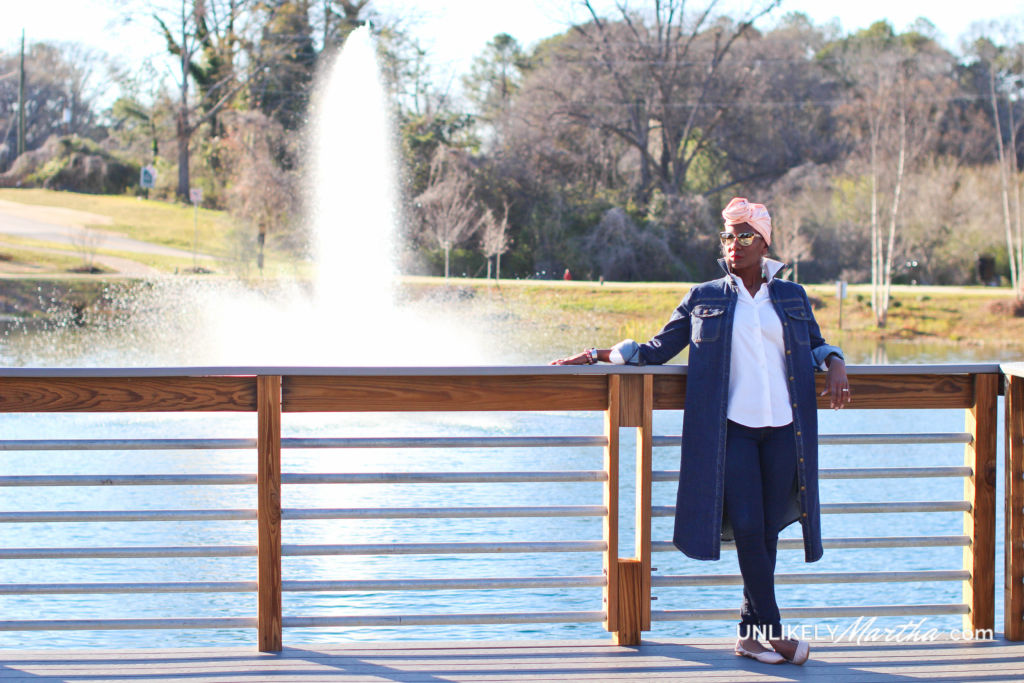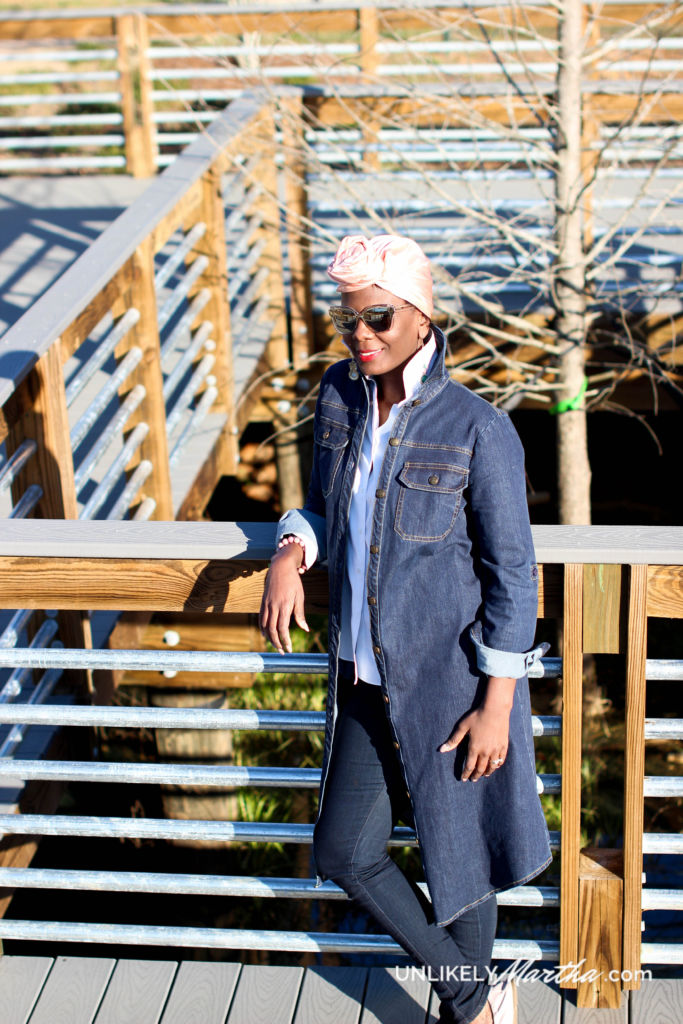 Did I mention I'm tired. Between dance and track four times a week, I'm just trying to look like somebody with minimal effort. I've worn a variation of this outfit more than I care to admit but it's easy and makes me look a little put together.
If you too are grasping for Spring outfit inspiration I'm teaming up with Take Time for Style for a fun collaboration of stylish moms sharing how we do Spring Style. Be sure to visit every day  for some Spring style inspiration. For a chance to win a $150 Nordstrom Gift card enter HERE!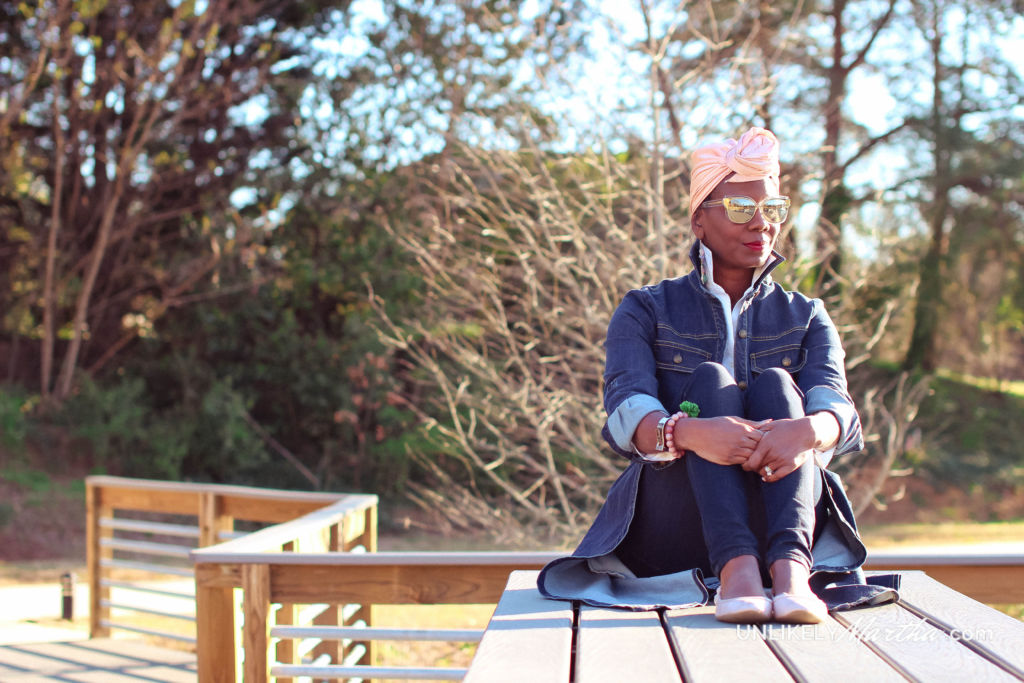 Jean Dress

| Eshakti   

Jeans

| Stitch Fix  

Blouse

| Brooks Brothers (thrifted)  

Shoes

| Old Navy 

Scarf

| My Head Tie 

Sunnies

| Tory Burch

I was compensated by Eshakti, and I thank them dearly for providing me with one more functional and classic piece of clothing to add to my wardrobe. This post also include affiliate links, if you click and buy I make a few coins.

What are your Spring style goals? How's the weather in your neck of the woods.

Save

Save

Save

Save

Save

Save

Save

Save

Save