Let me start by saying when I was coming up, once school started we didn't get many breaks. We had a few days for Thanksgiving, like that Thursday and Friday. For Christmas we might have been lucky to get out the day before Christmas and went back right after the new year. At that point, we waited patiently until Spring to get another break, with a few days off here and there.
Fast forward some *cough* 20 plus years and it seems like every time I look up my children are out of school. To be honest, I kind of understand all of these additional days that are built in now, I think it's good for the teachers to get a little break here and there. My children had a fall break a few weeks ago and since I spent nearly every weekend this summer traveling, I thought this would be a good time for us to hit the beach.
Since my husband couldn't get the whole week off, we decided to head to Jekyll Island, which is a small island off the coast of Georgia. It wasn't my first time there, I went a few years ago for a girls trip and thought the calm and quiet of the beach this time of year would be good. Jekyll Island is the perfect quaint little place if you are looking for a little R&R.
We stayed at the recently renovated Holiday Inn Jekyll Island. The hotel was steps away from the beach.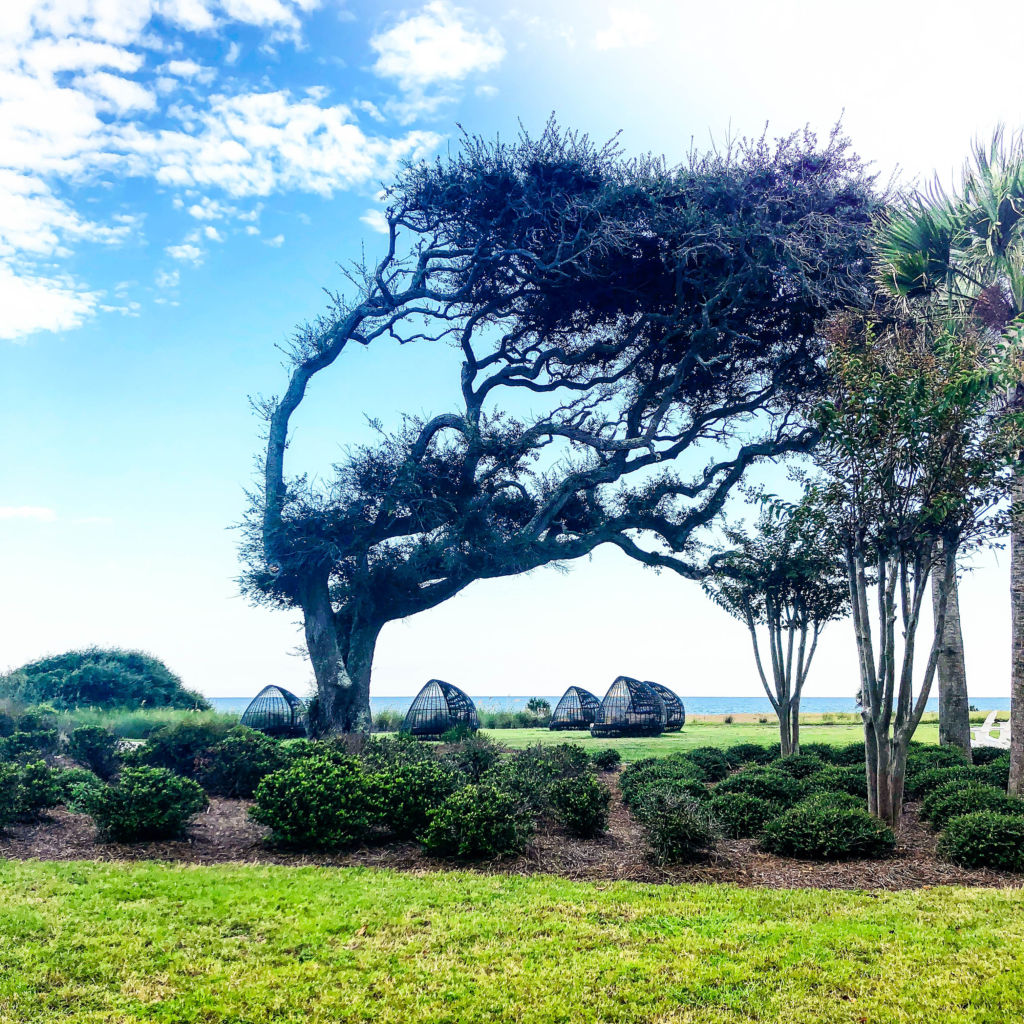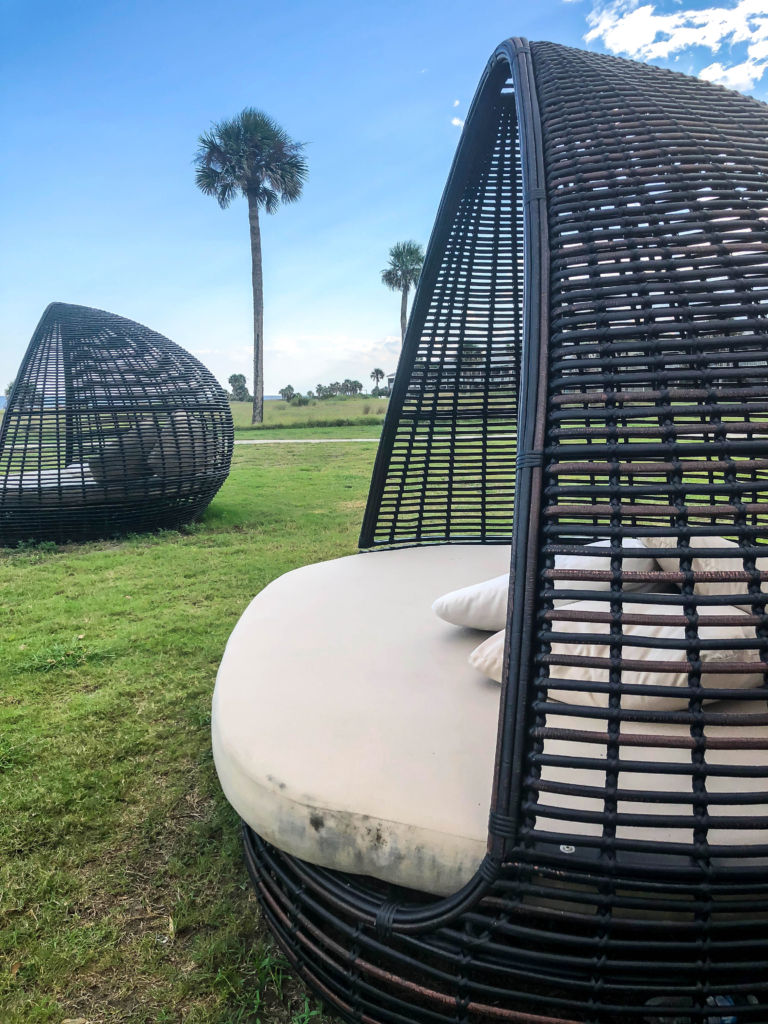 The first night we got there, we just opted to walk along the beach at sunset and grab some dinner and ice cream.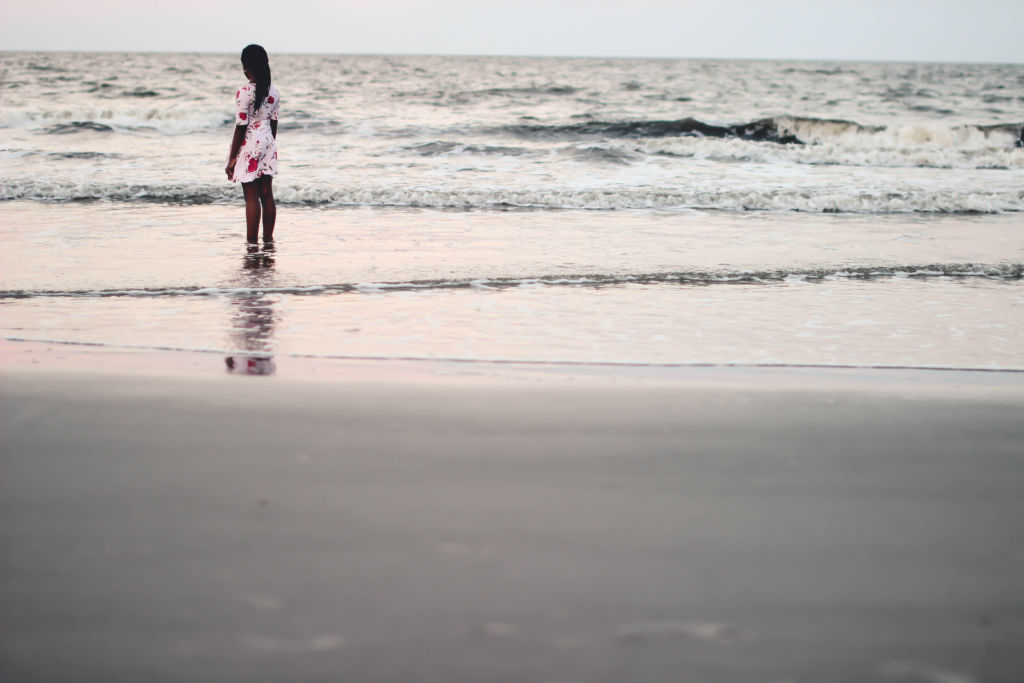 Dinner was at Tortuga Jacks. I promise sitting on their outdoor porch, catching the glimpse of a hanging pinata out of one eye and the ocean out of the other, if someone had blindfolded me and brought me there I would've sworn I was on some exotic island. The night breeze, family talk, and the sunsetting on the ocean made for a beautiful dinner.
Oh, and the food was good.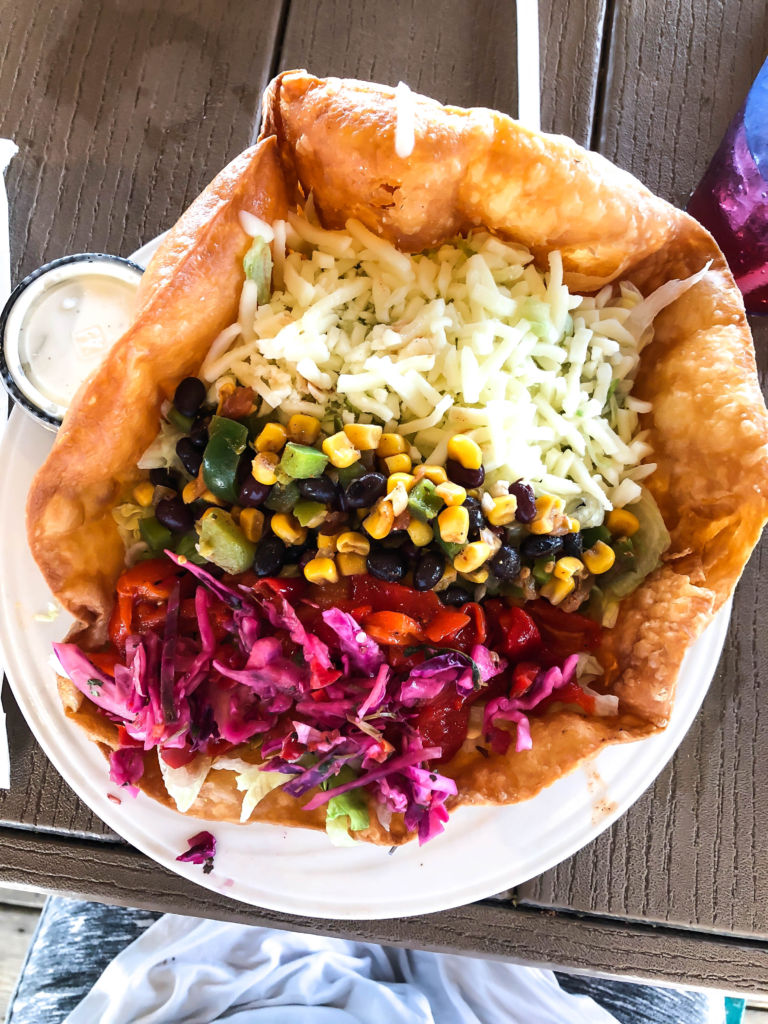 I'm not sure who was more excited about spending a day on the beach. We hurried and ate an okay breakfast at the hotel restaurant, you know the usual hotel breakfast buffet fare before skipping back to the room and getting ready for a quiet day on the beach.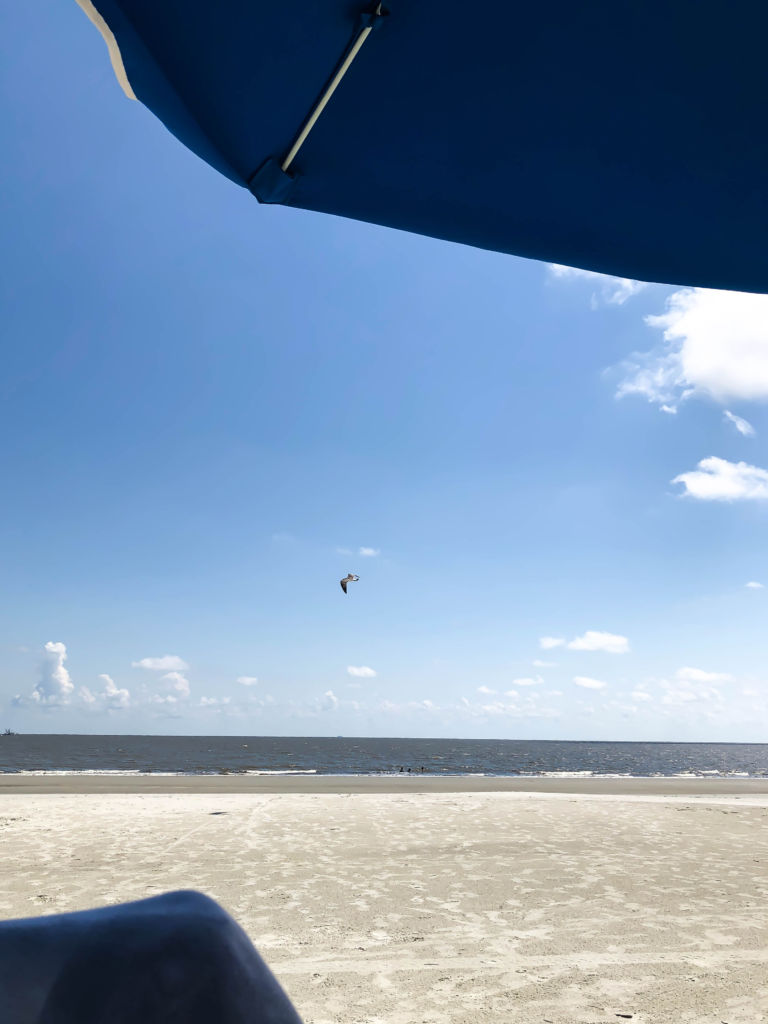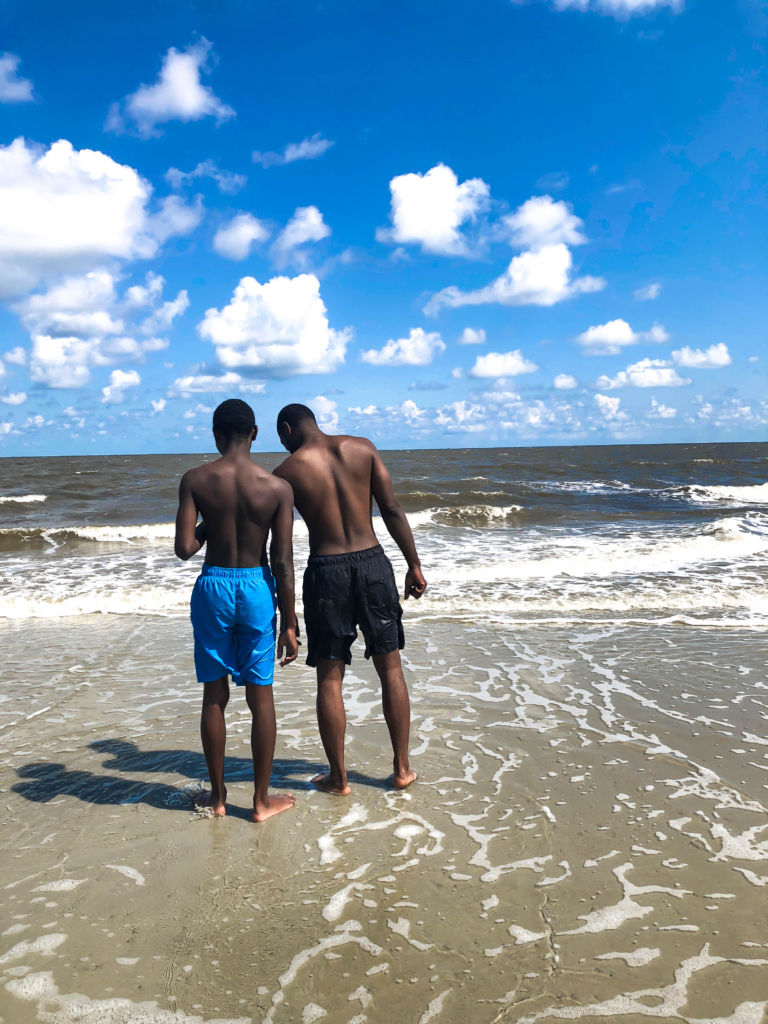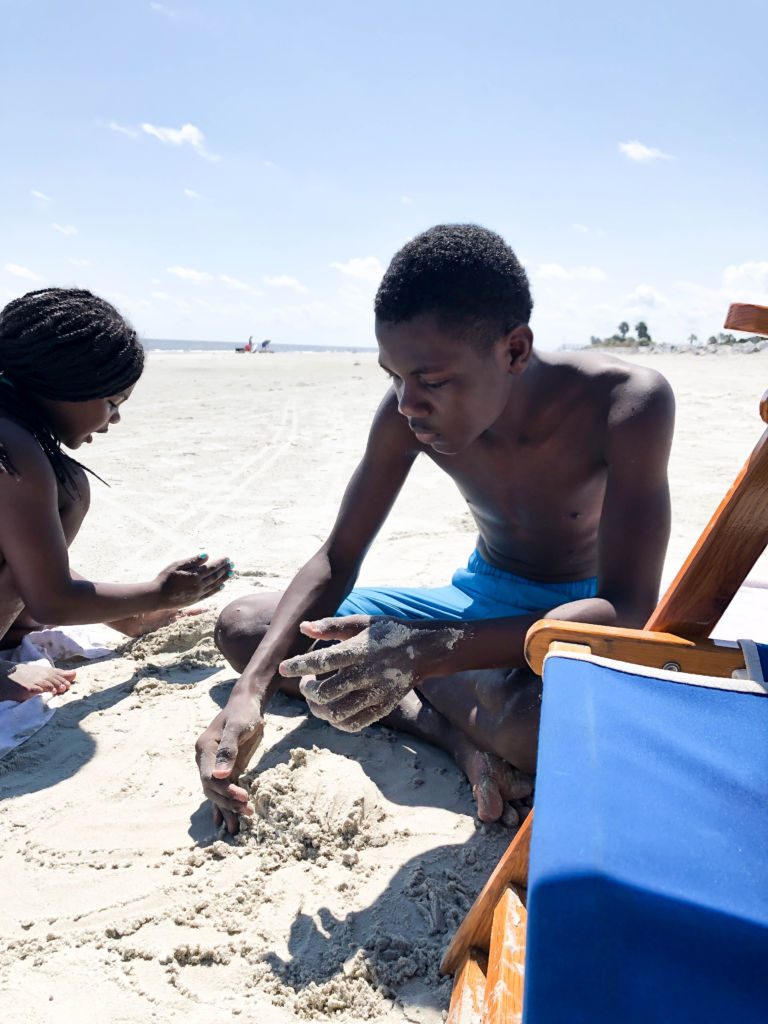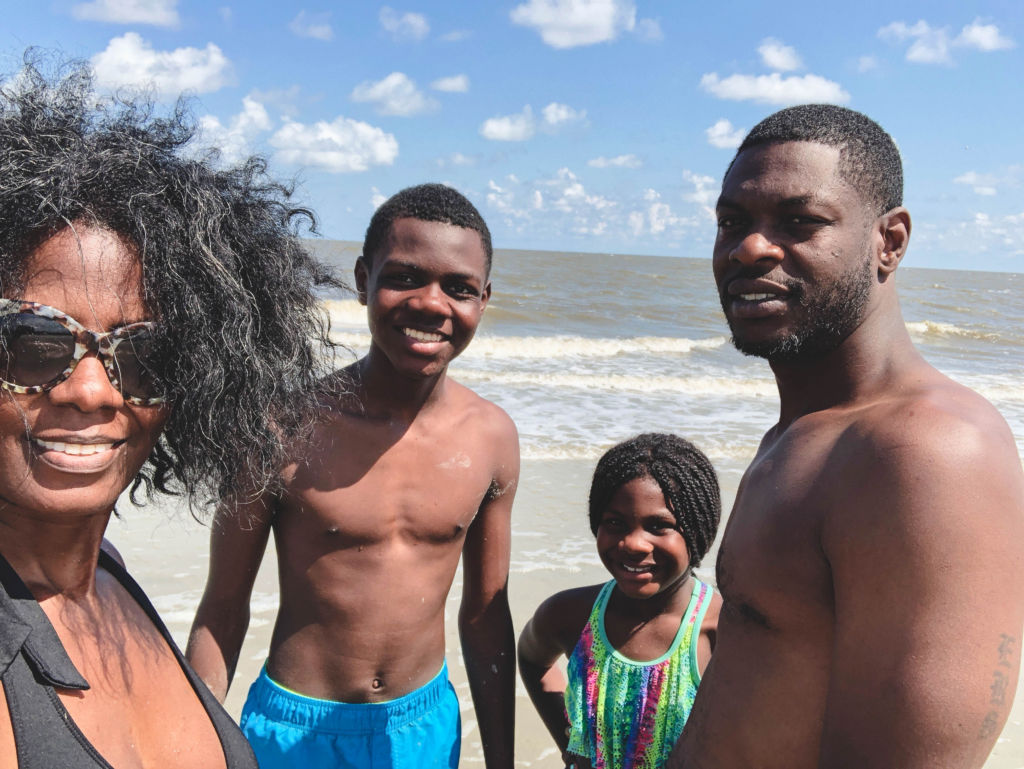 With no real agenda, we played each day by ear. I really wanted us to take a bike ride around the island but I miscalculated off-peak hours for island businesses, and we missed out. We eventually made our way down to Driftwood beach, which was absolutely eerie and beautiful at the same time. You ever look at nature and are completely awed at its beauty? This was one of those times for me.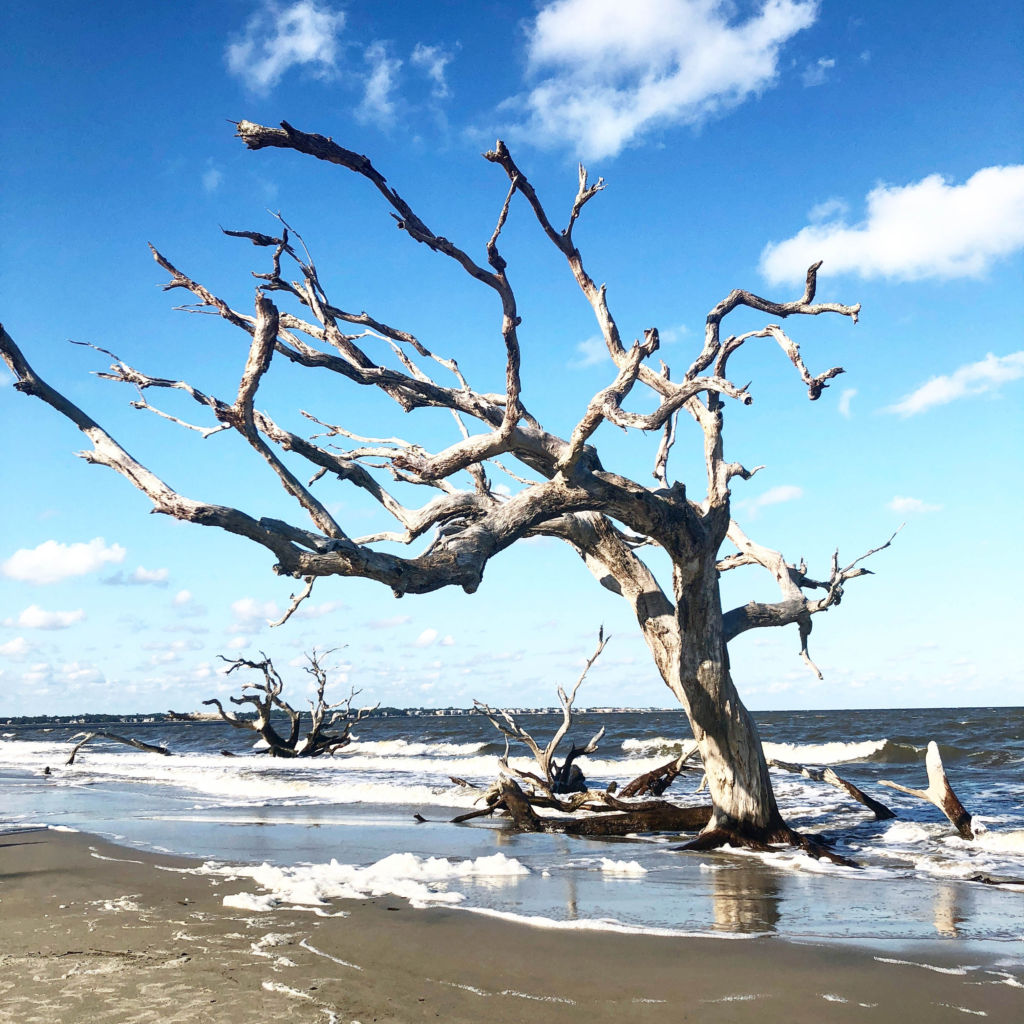 ….and you have to love strangers who see you struggling to set up your camera to do a family selfie and offer to take your picture.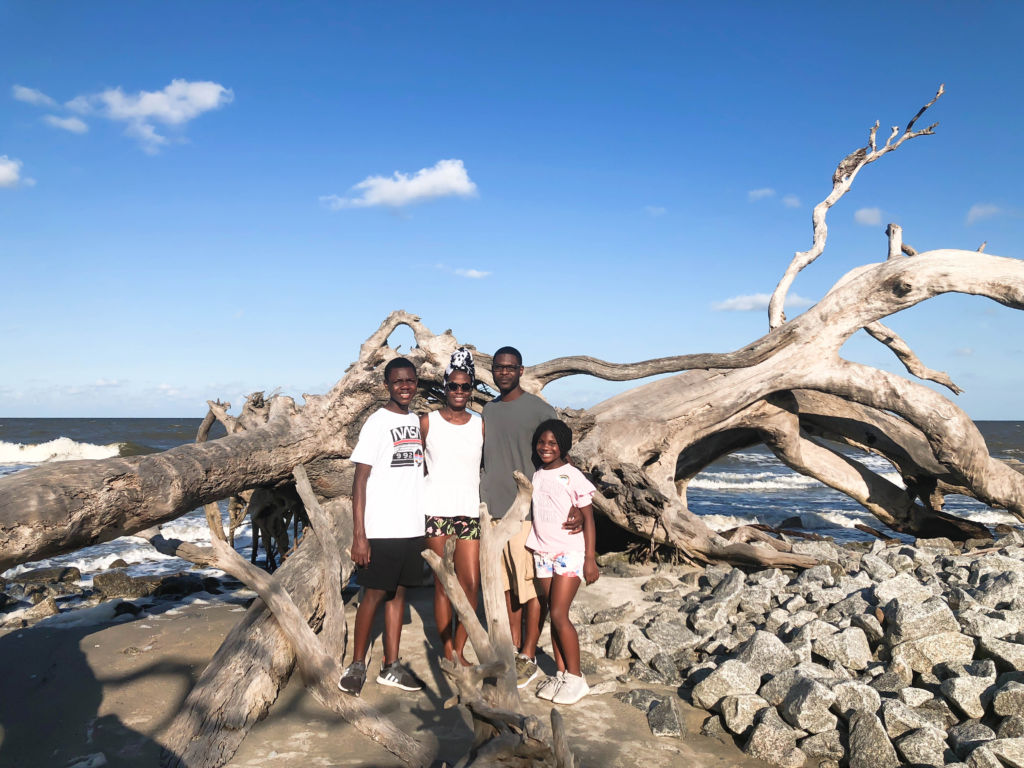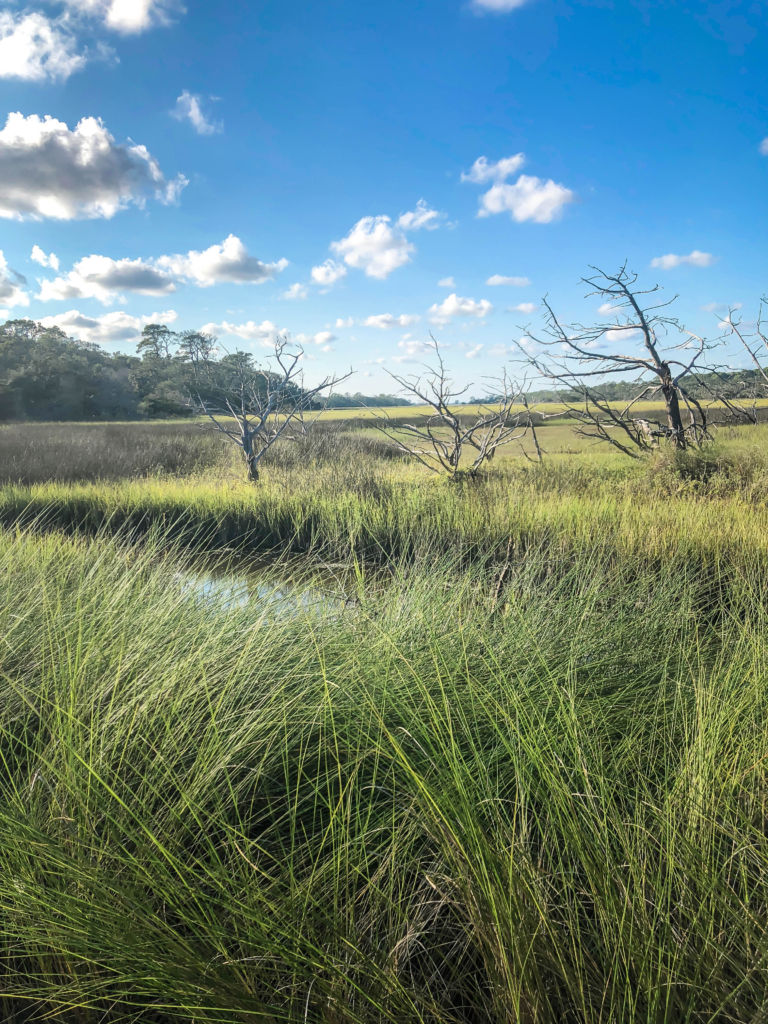 In the vein of forgetting we were visiting during off-peak season, we missed a lot of the fun little gift shops and such. By the time we cleaned up from the beach, it was almost 5p, and everything was closing up for the day. We did manage to find our way into one shop for some souvenirs and a leisurely walk.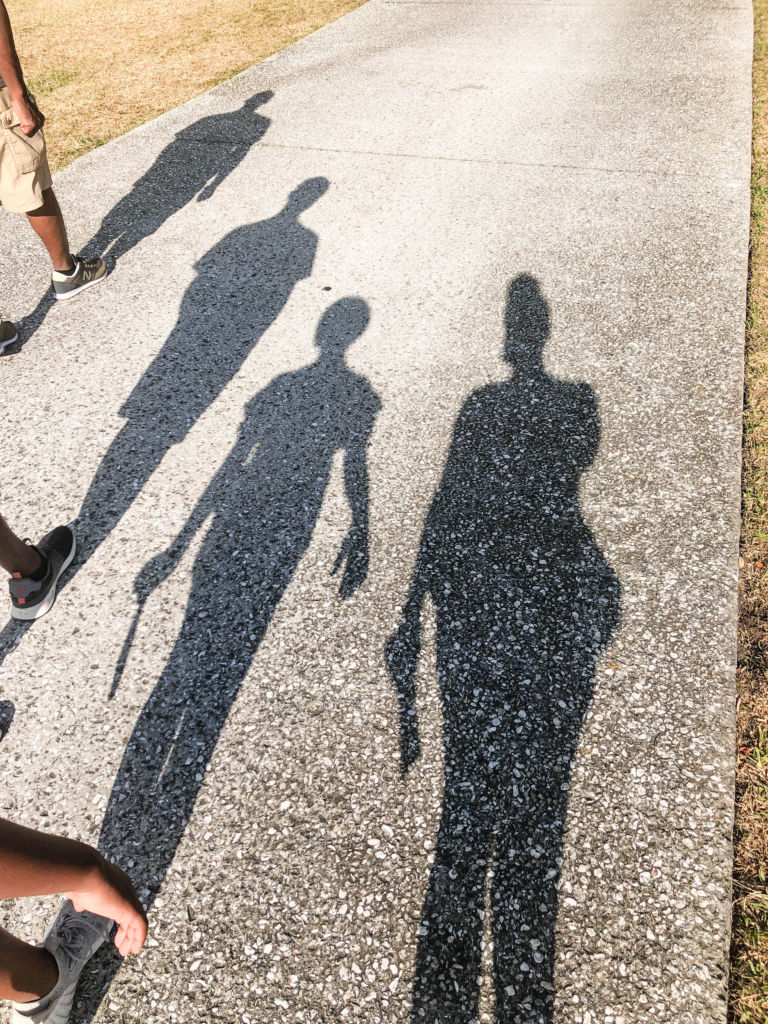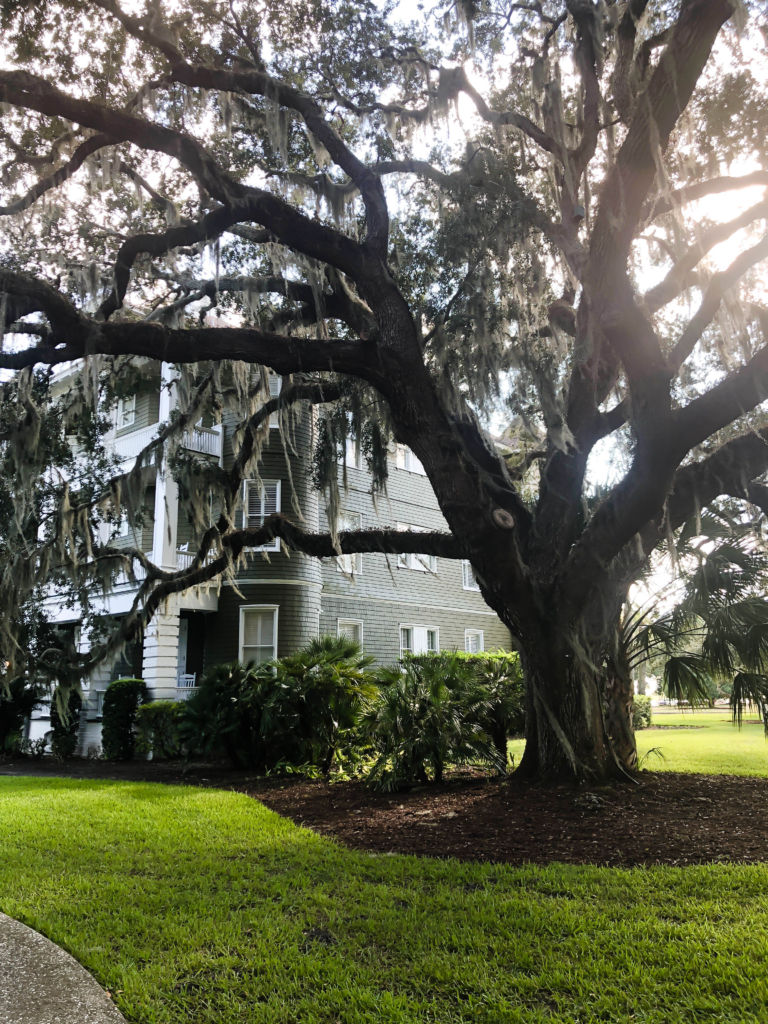 When we couldn't go biking, we went searching for a few things to do off the island and found our way to St. Simons island another barrier island about 20 minutes away.
St. Simons was more of a beach town, with souvenir and ice cream shops on what you would consider a traditional beach strip. It reminded me so much of the summers I spent at a friend's beach house on Rehobeth beach in Delaware. Nostalgia always wins! We'll be back St. Simons.
We had dinner at Iguanas, it was the Epitome of beach food. The inside looked like it hadn't been renovated since the 80s… nostalgia wins again. Took me right back to summers on the beach as a kid. Off-season beach life afforded us the opportunity to sit and eat without a wait. I love a good hush puppy and these might have been some of the best I've ever had.
So. Freaking. Good.
If you ever make it to St. Simons, eat there.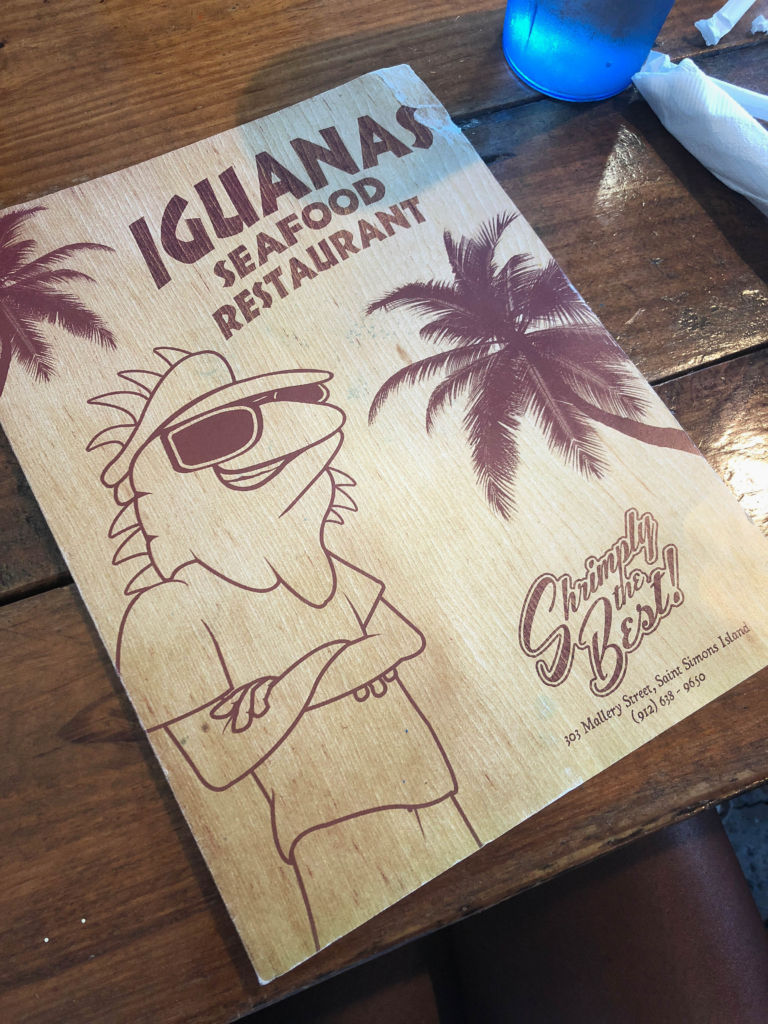 We walked the town but were too late to get salt water taffy and tacky souvenirs. The pier more than made up for it as we happened on this dope sunset. Seems like it was the happening spot, folks fishing, families out, couples walking hand in hand. We fit right in and walked a little enjoying the night breeze.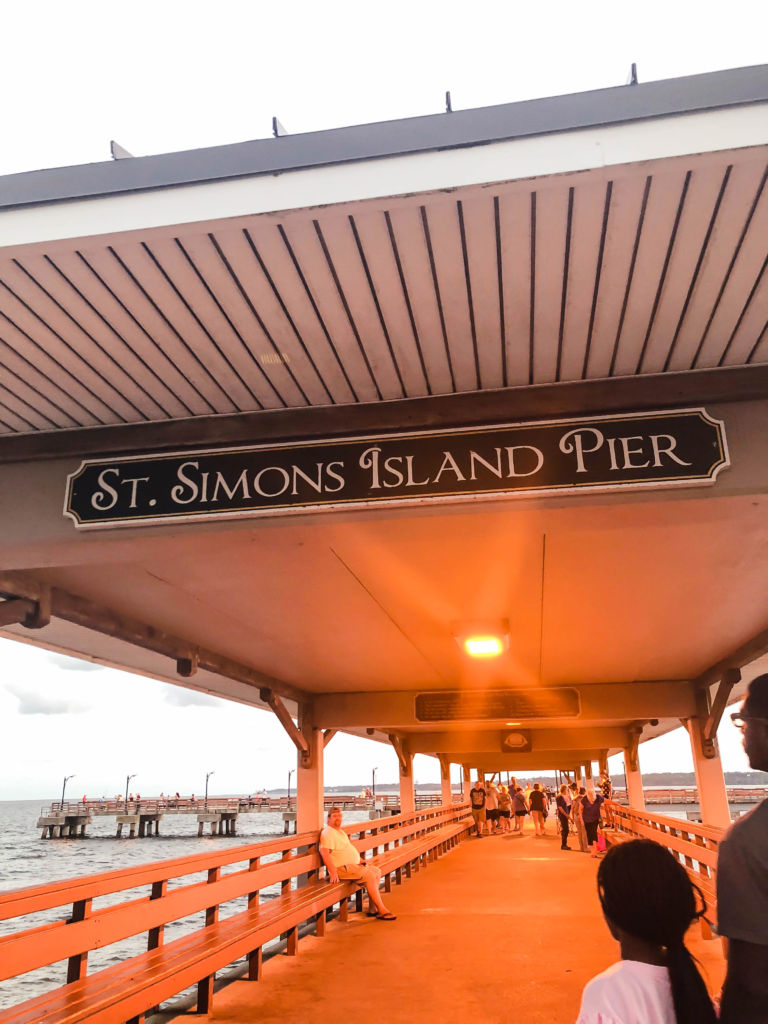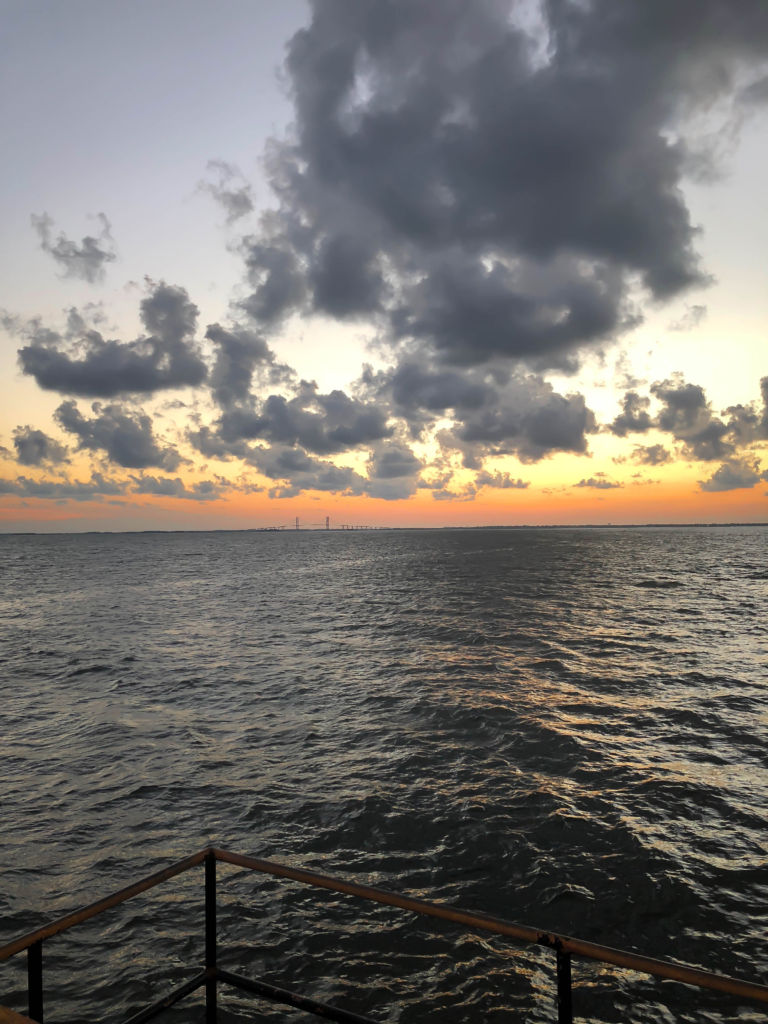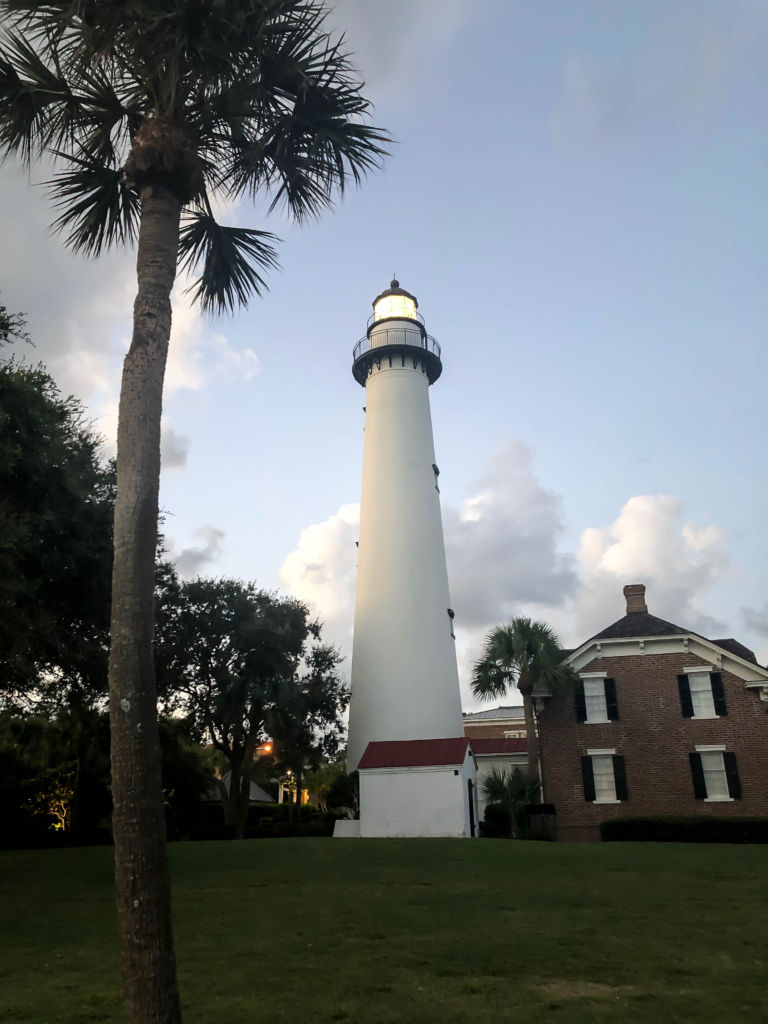 I think we could've stayed another day but let's just say weekend rates on the island are a little steep, so we packed up and headed home. With just four hours from door to door, this was the perfect little getaway. We're likely going to take another fun weekend excursion in a few weeks back to Asheville with the kids in tow once the leaves change, so stay tuned for more Scarlett family travels!
Here's a fun little video of our stay on Jekyll Island! Be sure to subscribe to my Youtube channel, while you're over there!
Do you have any fall travel plans?